Chinese New Year brings to mind the red colour, representing luck and prosperous for the new year. A surefire way to celebrate CNY is to eat your way to prosperity (yes, you can ). One of the most sought-after delicacies in CNY is the abalone or bao yu in Chinese, which means "assurance" (bao) and "surplus" (yu). Wouldn't it be nice to be "assured of a surplus" for the new year? Well, you're certainly in luck because we're about to bring you some mouth-watering abalone promotions that are just as juicy as the abalone itself!
If you haven't tasted this prized sea mollusk, wait no longer. This guide has all you need to know about the abalone, including where to buy cheap and good abalones in Singapore for CNY 2018.
What exactly is the abalone?
It's a gastropod mollusk of the Haliotidae family (along with whelks and sea slugs); simply put – it's a sea snail. It's a univalve, which means it has a protective shell only on one side of its body, while the other side attaches to any rocky surface it can find.
What types are of abalone are available?
There are three types of abalone in the market: canned abalone, fresh abalone and dried abalone. Depending on personal preference, canned abalone is the popular choice for CNY as it is convenient, succulent in texture and extremely flavourful. There are two types of canned abalone: in brine and in sauce. Canned abalone in brine, i.e. salt and water, is lighter in flavour and perfect for soups and stir fry dishes. Canned abalone in sauce is seasoned, and can be consumed immediately, often with vegetables.
Fresh abalone (including frozen fresh abalone), in comparison, is the cheaper alternative to canned abalone and is equally, if not, more versatile than canned abalone. However, it tastes a bit fishier.
On the other hand, dried abalone takes the longest time to cook among the three as it has the firmest texture. It is typically simmered in broth for several hours and is used to impart a distinct flavour to Chinese soups. Interestingly, dried abalone connoisseurs also enjoy it by braising the whole piece.
What should one consider when buying canned abalones?
Now that you've gotten some basic ideas about abalone, how can you choose from the wide range of abalones available and why are some abalones more expensive than others? Let's talk about the canned abalone, which is undoubtedly the popular choice for CNY and can be used in many CNY recipes.
Before getting in on Giant's abalone promotions for 2018, consider these five factors:
1. Country of origin
 Are the abalones harvested from Mexico, Australia, New Zealand or South Africa? Abalones marketed in Singapore are most commonly imported from these countries. The country of origin partially determines the price of these precious sea snails as the taste and texture of abalones are affected by the purity and quality of seawater where they live.
Generally speaking, abalones from Mexico, Australia, New Zealand and South Africa are considered to be of premium quality – but the most exclusive (and most expensive) are the abalones from Mexico. These are deemed to be of superior quality and are firm to touch, but the softest to bite.
Apart from the exclusive Mexican abalones, personal preference also matters when it comes to choosing canned abalones. For example, Australian abalones tend to be sweet and chewy; New Zealand abalones are more flavourful and reasonably priced while some think South African abalones match Mexico's in taste, but not in size.
In terms of price, Mexican abalones are the most expensive, followed by those from Australia and New Zealand.
2. Number of heads or pieces of abalone
Retailers and restaurateurs often speak about abalones in terms of the number of heads. This is measured in terms of one catty, or its approximate equivalent, 600g. This refers to the size of the abalone. To put it simply, the fewer the heads, the larger the piece of abalone. For example, a two-head abalone weighs 300g but a four-head abalone only weighs 150g.This translates to the price – the larger the abalone, the more expensive.
Canned abalones are typically about one-half-head, but do check the code stamped on top or at the bottom of the can to make sure. A typical classification is as follows:
| | | |
| --- | --- | --- |
| Size | No. of pieces | Drained weight |
| F1 120g | 1 whole piece per can | 120g |
| FF1 120g | 1½ pieces per can | 120g |
| F1 180g | 1 whole piece per can | 180g |
| F2 180g | 2 whole pieces per can | 180g |
| F3 213g | 3 whole pieces per can | 213g |
| F4 213g | 4 whole pieces per can | 213g |
3. Drained weight
Drained weight, listed above, is the weight of the abalone minus the brine or sauce. The drained weight, as opposed to the net weight, gives you a clearer picture of the size of abalone that's actually in the can.
4. Farmed or wild abalone
Wild abalones tend to be saltier.
5. Price
Do remember that in general, the country of origin, the drained weight and grade all determine the final price of canned abalones.
If price is your ultimate concern, you've come to the right place. We have hand-picked the best-priced abalones in Singapore for you to celebrate a prosperous CNY 2018.
Special Abalone Promotions and where to find affordable and delicious canned abalones in Singapore
Besides detailing the most reasonably-priced (i.e. cheapest!) abalones in Singapore for CNY 2018, we also present the exclusive promotions on abalones. Snap up these deals while you can!
California Mexico Abalone (Mexico), 454g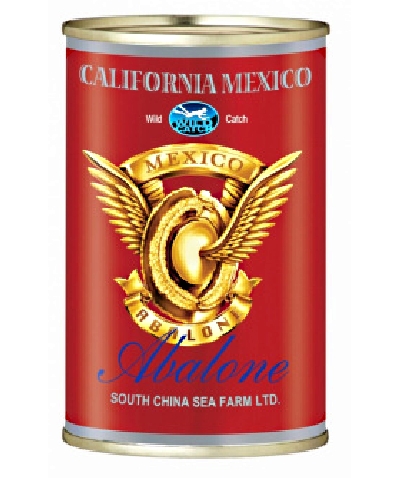 As mentioned above, some abalone connoisseurs swear by Calmex abalones, particularly since it's been a trusted brand for over 50 years – since 1957. Quantity is limited each year because it is canned with only the best wild abalone from Baja California, Mexico. Each can contains one to three pieces of abalone cooked and canned in brine, and has no preservatives.
Find it at Giant Supermarkets: This can of California Mexico abalones can be yours for only $158. Don't forget to check our abalone promotions page to see what's currently on offer!
New Moon Abalone (New Zealand), 425g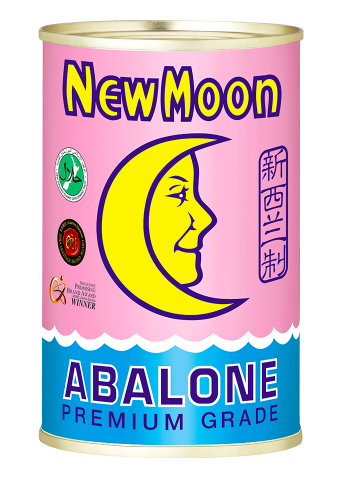 This New Moon premium-grade abalone from New Zealand tastes delicious and is reasonably priced. These abalones live in the pristine waters of New Zealand, which result in their distinctive taste.
Abalones harness these concentrated nutritional elements from the sea. They contain protein that provides essential amino acids to support building and maintaining body/muscle tissues. New Moon abalones are low in fat and trans-fat free, which makes them even more nutritious.
Find it at Giant Supermarkets: While this may be one of the cheapest New Moon New Zealand abalone in Singapore at $39.80, rest assured, its quality is not compromised. Don't forget to check our abalone promotions page to see what's currently on offer!
New Moon Abalone (Australia), 425g
Nestled in this can is the Haliotis Rubra, a species of abalone harvested from the rocky reef habitats of Tasmania. The abalone flesh is cream-coloured and has a firm texture. Australian abalones are renowned for its sweet taste and is the perfect addition to a variety of dishes.
Find it at Giant Supermarkets: Priced at only $46.80, a sumptuous feast of sweet Australian abalones awaits you. Don't forget to check our abalone promotions page to see what's currently on offer!
Fortune Baby Abalone, 425g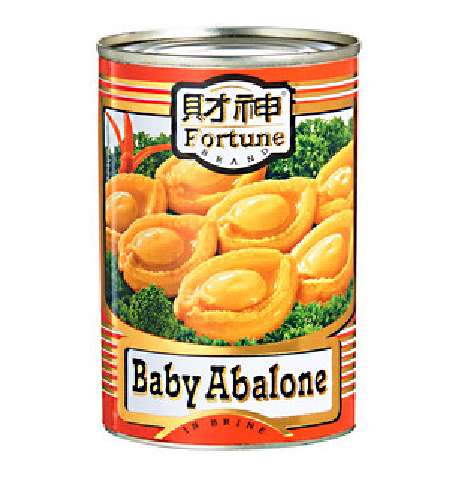 If you're planning a feast for a large group this CNY, these baby abalones from the Fortune brand will certainty come in handy. Instead of one large piece of abalone to be sliced and shared, these abalones can be individually distributed, thus making it the perfect addition to the pen cai dish as well.
Find it at Giant Supermarkets: It's a steal! Get two cans for the price of $59.85 at all outlets across Singapore. Don't forget to check our abalone promotions page to see what's currently on offer!
Dragon Horse Abalone (Australia), 425g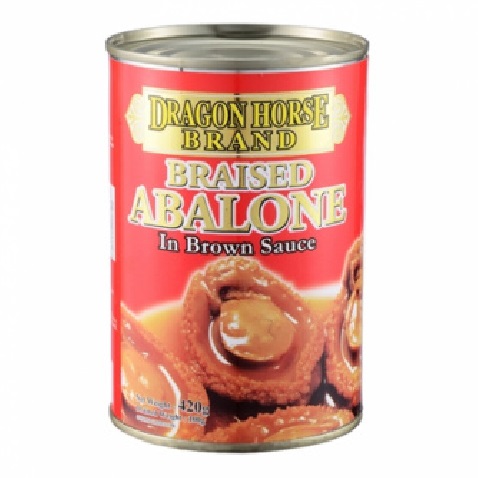 These Australian abalones from the Dragon Horse brand have a robust taste that's enhanced by the savoury brown sauce.
Find it at Giant Supermarkets: Each can is now priced at $24.90! Don't forget to check our abalone promotions page to see what's currently on offer!
Is there a proper way to prepare canned abalones?
We've now come to the last bit of the abalone buying guide: the proper way to prepare canned abalones.
After this, remove the abalone from the can – it's now ready to be used with your favourite CNY recipe. On a side note, do remember to keep some abalones left in the can to whip up some aromatic sauce for your dish.
Also, once opened, canned abalones can actually be served immediately. You may opt for a restaurant-quality dish by marinating the abalone in your choice of sauce straight from the can and placing it in the fridge to chill overnight.
If used for steamboat, place the abalone in an empty bowl first. The best way to consume this precious piece of sea snail is by pouring hot soup onto it. Boiling the abalone directly will only spoil its texture.
For more abalone recipe ideas, check out these 10 easy abalone recipes for CNY 2018. For the complete scoop on all things CNY and food-related, we have these amazing CNY traditional recipes, CNY healthy snacks, and CNY reunion dinner ideas for you to try out.
Now that you're all set when it comes to choosing, buying and preparing abalones, Giant Supermarkets would like to wish you happiness, longevity, and of course, prosperity for the new year ahead!