The dry season in Singapore has begun! Did you know that the vitamin A in spinach can help your skin retain its moisture? If you suffer from dry skin, psoriasis, or even acne, eating more spinach this season may help improve your skin.
While spinach is delicious on its own, it works very nicely with various types of mushrooms. Here's a set of 3 recipes that you can try with almost any variety of mushrooms!
Main Ingredients: 2 packs of spinach | 2 packs of fresh mushrooms (mixed, button, shitake, or portobello)
As with the other articles in this series, the recipes listed in this article provide 4 servings.
[ Navigation: Spinach, Mushroom and Feta Puffs| Spinach Salmon Rolls | Spinach Minced Meat Noodles ]
Start of the Week: Spinach, Mushroom, and Feta Puffs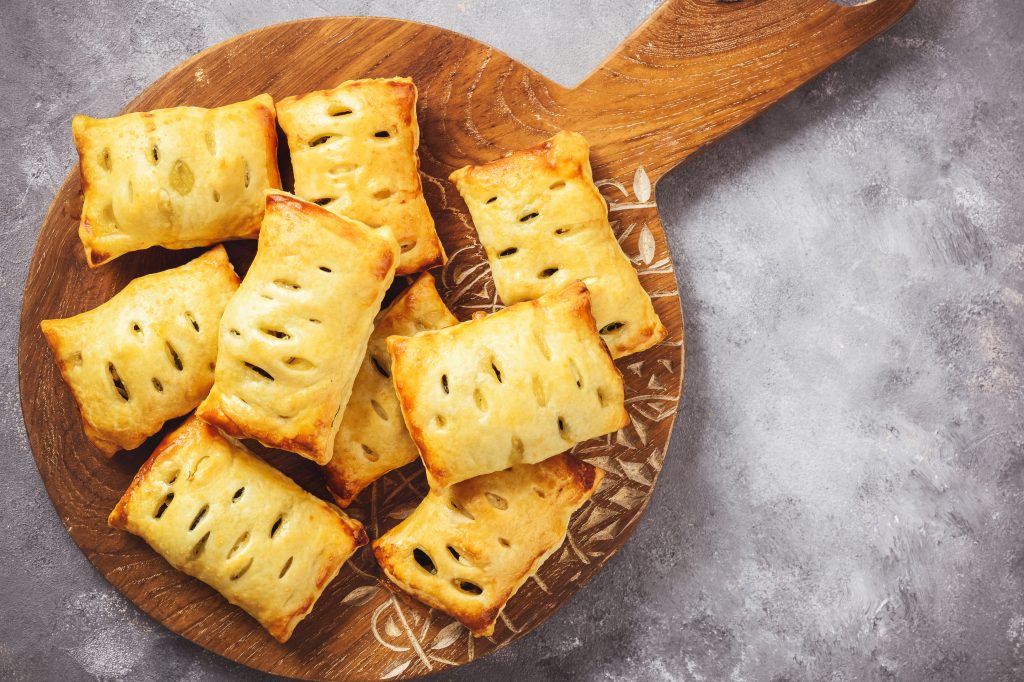 For those of you who are frequently prepare packed meals, this recipe is just for you. Simply prepare the puffs on Sunday, cover them with a moist cloth and store in the fridge. Then bake it when it's time for dinner!
Ingredients:
1 medium yellow/brown onion (peeled and finely diced)
2 cloves of garlic
1 tablespoon of olive oil
Salt and Pepper (a couple pinch)
60ml white wine (or 60ml apple cider vinegar)
500g mushrooms
100g frozen vegetables
Half a pack of spinach (finely chopped)
60g feta cheese (crumbled into small bits)
2 sheets of frozen low fat puff pastry (defrosted)
1 egg (beaten)
Variants:
If you prefer a firmer mouthfeel, you can swap out 200g of mushrooms for either 150g minced chicken or 150g firm tofu (tau kwa).
Prepare the chicken mince by marinating it in cornstarch, pepper, and soy sauce for 20-30 minutes.
If you are using firm tofu (tau kwa), sandwich between layers of paper towels, then place a plate on top for 15 minutes to eliminate excess fluids. Chop it into little pieces.
Cooking Instructions:
On medium fire, fry the garlic and onions in olive oil until golden. Add in your chicken or tofu (whichever preferred). Then add the mushrooms, and season with salt and pepper.  When the mushrooms are soft, add white wine or apple cider vinegar.  Simmer on low for 10 minutes. Add the spinach and cook until it is soft. Set aside to cool.
Preheat the oven to 180 degrees Celsius and line your baking tray with baking paper. Cut each large puff pastry sheet into 4 squares. (You should get 8 squares in total, with both sheets.) Spoon a quarter of the mushroom mixture onto a square of pastry, and top with a quarter of the feta cheese. Brush the edges with beaten egg, then place a second square on top and press along the edges with a fork to seal the puff.
Repeat with the remaining pastry and ingredients, until you get 4 puffs. Use a knife and make a few slits on the top of each pie, then brush with the beaten egg wash. Bake for 20 to 25 minutes, or until golden and puffy.
Middle of week: Spinach Salmon Rolls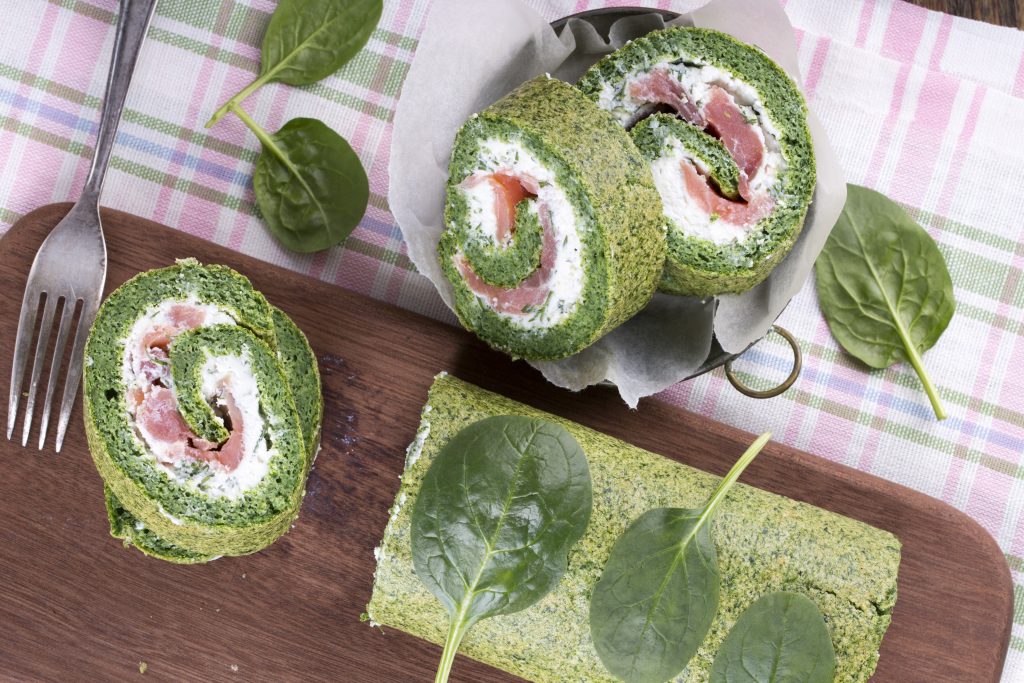 If you need a healthy mid-week dinner, this is it! This recipe needs a lot of spinach, so go right ahead and chop up the entire packet of spinach.
Ingredients:
Cooking Instructions:
Soften the cream cheese at room temperature and preheat oven at 180 degrees Celsius. Blanch the spinach in boiling water, for 1-2 minutes. Using a colander, rinse the spinach with tap water and leave it to drip dry. (Better yet, grab a clean kitchen towel and pat it dry gently so that it will be ready in a shorter amount of time). In a large bowl, mix the egg yolks, spinach, and basil. Season with salt and pepper.
Beat the egg whites till it forms stiff peaks, then mix into the spinach and yolk mixture. Line a large baking tray with baking sheets, then use a spatula to spread into an even layer. Bake at 180 degree Celsius for 10 minutes. While the egg layer is still in a semi-solid state on top, remove the pastry from the oven, sprinkle on the sliced mushrooms, and pop it back into the oven ad bake for another 10 minutes.
While the egg sheet is baking, make the sour cream mix. Extract the juice from half a lemon, then grate the other half of a lemon to make lemon zest. Mix the cream cheese, dill, lemon juice, and zest in a bowl. Season with salt and pepper to taste.
Let the egg sheet cool for 10 minutes, then coat with the sour cream mix, and layer on with smoked salmon. Cut into 4 portions and serve.
End of the week: Spicy Spinach Mushroom Minced Meat Noodles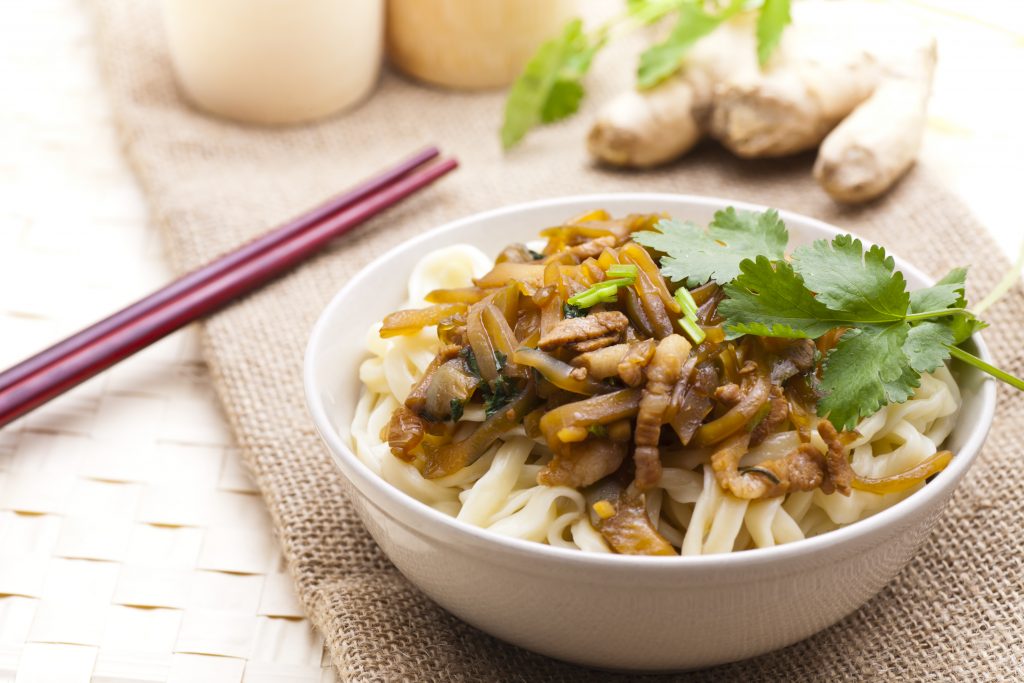 Ingredients
Minced meat sauce
Noodle sauce
Salt and pepper to taste
2 tbsp minced garlic
2 tbsp light soy sauce
Chili padi to taste
3 strands spring onions (chopped)
2 tsp chili oil
4 tsp sesame oil
Cooking Instructions:
Marinate the minced meat for 15 minutes, then stir-fry it. When the meat is almost fully cooked, add in the mushrooms. Stir in the bean pastes, and mushroom sauce. Then add in the rest of the minced meat sauce ingredients. Stir until the meat sauce thickens and set aside.
In a bowl, mix the ingredients required for the noodle sauce. Then split it into 4 serving bowls.
Cook noodles based on package instructions then blanch it with tap water. Remove the excess water from the noodles with a sieve and pour a serving into each bowl. Blanch the spinach in boiling water, fling it dry, then place on top of the noodles. In each bowl, ladle on the meat sauce, place an egg on the side, and top it off with a portion of the noodle sauce. Serve and enjoy!
Should you have leftover spinach, you can boil then blanch it in ice water. Then drizzle your favourite sauce on top of it to make a cold dish – perfect in this weather!
This blog is part of our Easy Meal Planning series, which lists easy-to-make dishes that have many ingredients in common. Join GSSC and stay tuned to our Facebook page for more tips on how you can minimize food wastage and stretch your dollar!