Sahur can make or break a day of fasting, so it is extra important to get a nutritious and filling breakfast before sunrise. While it's possible to buy food for Sahur from halal food stalls and coffee shops, they may not be the most nutritious or cost-effective option.
Muslims have to be up as early as 3 am daily to get the family's breakfast ready for the entire Ramadan month. All before a full day of work! So, here's a Ramadan breakfast guide to help everyone get more sleep without sacrificing flavour!
[Navigation Links: Sardine Omelette| Mexican Oatmeal Bowl | Yoghurt Cornflake Chicken]
Note: All recipes listed in this article are halal, and designed for 3-4 servings. Just double or triple up if you need more; don't forget to increase the cooking times too!
Before we go into the recipes, here are some healthy recommendations :
Eat a combination of fibre, fats, protein and complex carbohydrates, because they take a longer time to digest, and help you feel full. This also prevents overeating during Iftar.
Reduce the sugar, salt, and MSG. The sugar will make you feel sluggish, while the salt and MSG will make you thirsty.
Fibre is your best friend; it helps to control your blood sugar levels and sustain your energy. So, eat your dark leafy greens, swap out white bread for wholemeal bread, or mix some brown rice with your white rice.
Avoid deep-fried foods. Try making pan-fried, grilled, or baked versions instead! Better still, oven recipes allow you to multi-task and save time! However, if you absolutely need the crunch of deep-fried food, you can try out the cornflake chicken recipe listed later in this article!
Finish off Sahur with fresh fruit; it will refresh you and help you stay hydrated. Watermelons, bananas, apples, and mangoes are great choices. But we recommend the fruits that start with P – pears, pineapples, pomegranates, plums, and prunes.
Here are 2 main strategies for faster breakfast preparation:
Choose fast-to-make recipes
Look out for recipes that use eggs, canned/cured meats, leafy vegetables, and/or quick-cook oats. Another keyword is stir-fry or panfried. These often take under 20 minutes to prepare and cook.
Prepare a few days in advance
We recommend you choose baked, stewed or grilled recipes. They generally seal in the flavour well and don't add a lot of volume in liquid form, which means less space needed in the fridge. You can also adapt and learn from meal prep guides.
Section 1: Easiest options – Fast-to-make recipes
Sardine Omelette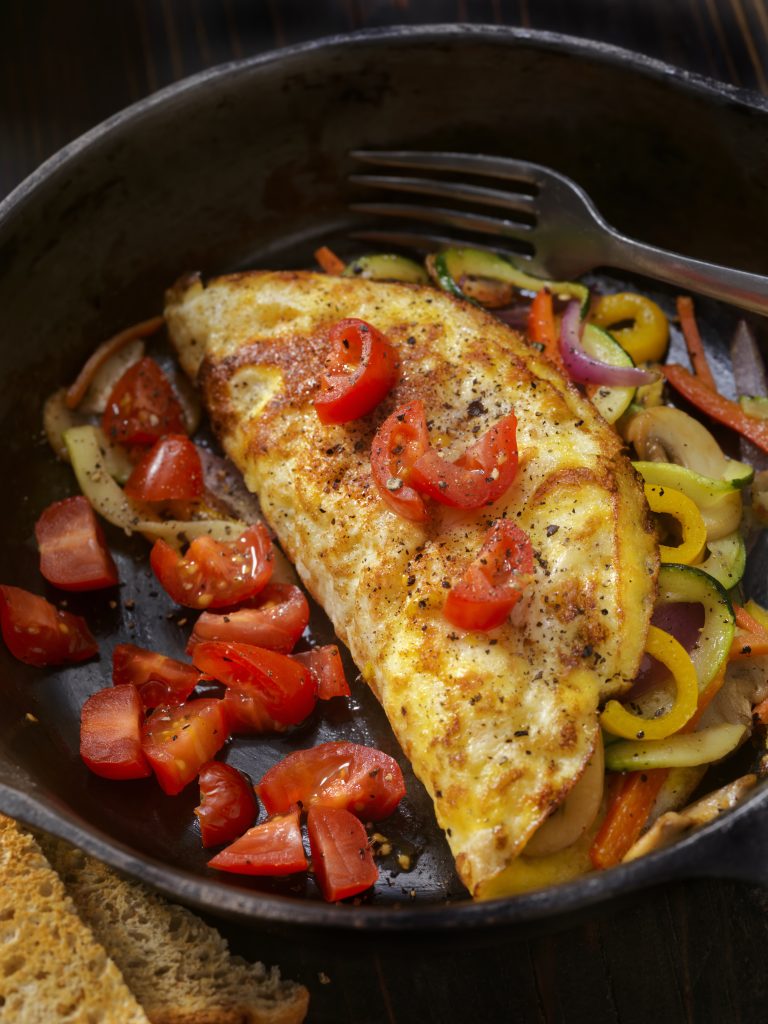 This recipe is simply amazing! It's fast-to-cook, affordable, and nutritious. Just perfect for those days where you're short on sleep and need to feed the family quickly.
Chop the vegetables, dice the sardines, and beat the eggs.
Heat oil in a frying pan, and sauté the chopped onions until fragrant. Add in the green peppers and tomatoes. When softened, set aside.
Heat oil in the pan again, then pour in half the egg mixture. When the bottom of the egg layer starts to firm up, add in half the vegetables and half the sardines. Fold the egg over to make the omelette, and place onto a plate. Repeat to make a second omelette with the rest of the ingredients.
Mexican Oatmeal Bowl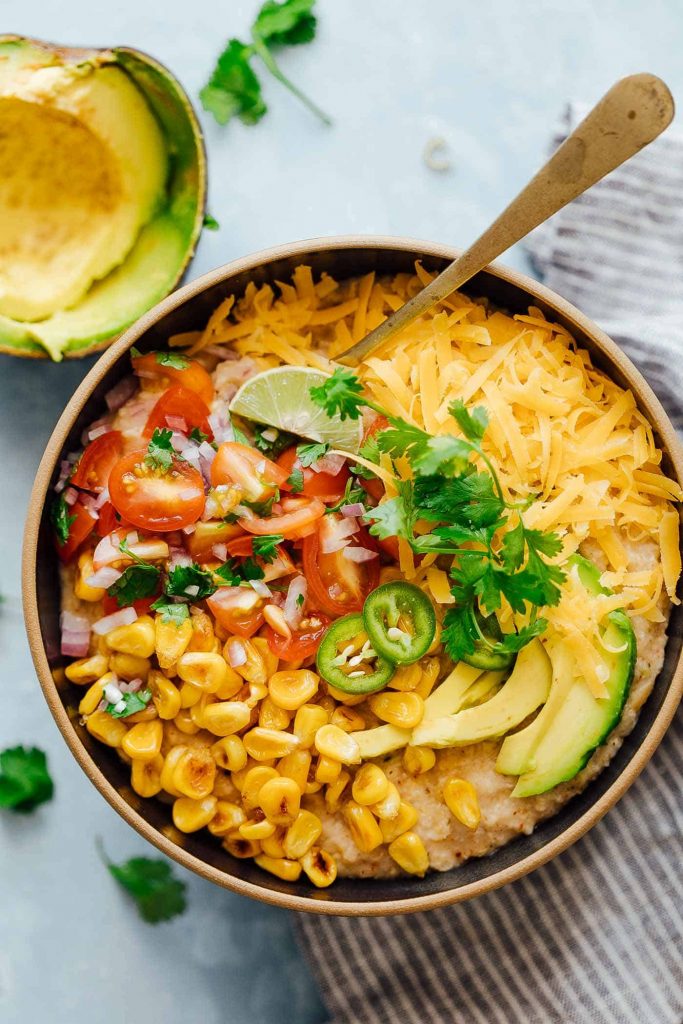 When you need a break from traditional Sahur dishes, you should try this nutritious and savoury oatmeal bowl. It takes less than 20 minutes to prepare!
Oatmeal ingredients:
Toppings:
Optional: Chunky salsa
1/2 onion (finely diced)
2 tomatoes (finely diced)
2 cloves garlic (finely diced)
1 fresh chilli (deseeded)
~5 strands of cilantro (finely chopped)
Juice from 1 medium lime
Salt and pepper to taste
On the night before, if you want to make your own salsa, just blanch the onion and garlic in hot water and drain. Then mix everything and refrigerate overnight! For those of you who love salsa and want to save money, you can scale up the salsa recipe. The salsa will last up to a week if kept refrigerated. (Do throw it out if it starts turning maroon, or smells weird.)
Heat oil in a non-stick pot and add garlic. When fragrant, add all the oatmeal ingredients. Mix well and bring to a boil. Simmer for a few minutes till the oat mixture has thickened up. Add a little more water to reach your preferred consistency. Remove from heat and ladle into 4 bowls.
Beat the eggs with milk, and scramble with butter. Split the eggs into 4 portions, and add to each bowl. In each bowl, add one-quarter of all the toppings. Serve and enjoy!
Section 2: More flavourful options – Prepared in advance
Yoghurt Cornflake Chicken

For those of you who love fried foods, this is a healthier and more filling alternative! We recommend completing this meal with a simple bowl of white and brown rice, cucumbers, tomatoes, and your usual sambal. Achar is also great with this.
Ingredients:
Dip coating:
Crunch coating:
On the night before, make the dip coating by mixing the ingredients in a bowl, then cover and store in the fridge. Defrost the chicken breasts in the fridge.
In the morning, preheat oven to 200 C degrees. Lightly oil a baking dish and set aside.
Make the crunch coating, by mixing the ingredients in a shallow bowl. Pat dry the chicken breasts with a kitchen towel, then dip the breasts into the dip coating. Shake off excess, then dip in cornflake mixture.
Lay on the baking dish, and bake for 30-35 minutes, until juices run clear and the chicken is thoroughly cooked. Enjoy!
Broccoli Cheddar Oatmeal Bake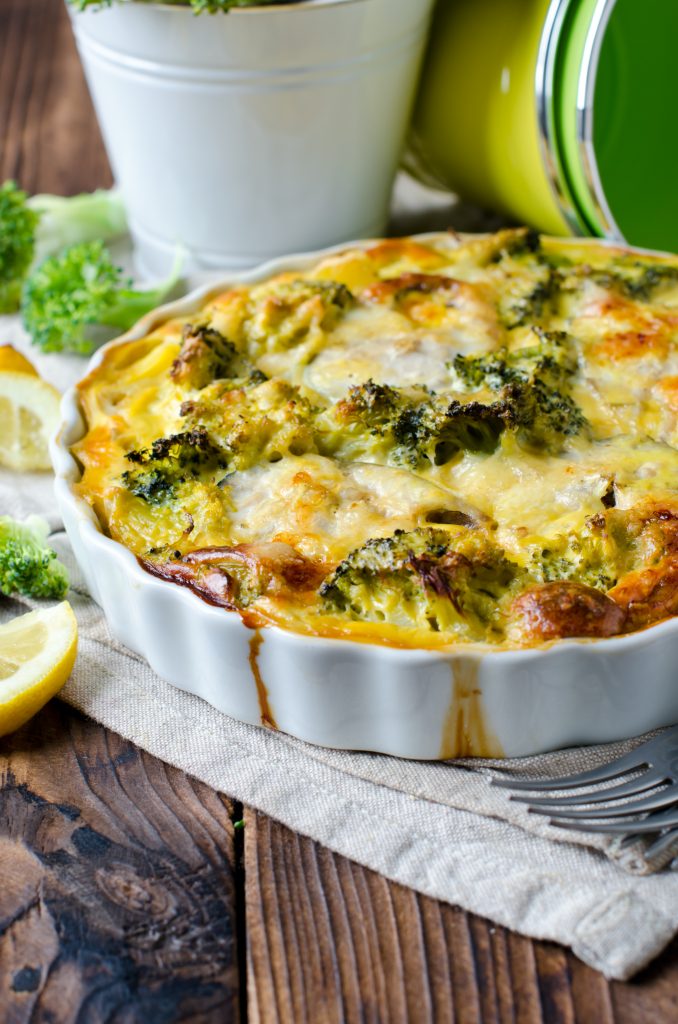 This recipe is the best for those of you who have some time on Sundays or weekday evenings. If you want even more greens, you can also add half a packet of spinach.
Ingredients:
Cook and chop up the broccoli. Then preheat oven to 180 C degrees.
In a bowl, whisk together flour and 120ml milk until completely smooth. On medium-low heat, melt butter on a nonstick pan. Add flour mixture to skillet, followed by the remaining milk.
Turn up the heat to medium, and whisk 7-10 minutes until sauce mixture is thickened. Do not stop whisking, to prevent burning.  If flour begins to stick to the bottom, remove from heat and turn the fire down before returning to heat. When you feel some resistance on your whisk, it means the sauce is ready.
Remove from heat, then add in greek yoghurt, cheese, and seasonings.  Whisk until the sauce is smooth and creamy.
In a larger bowl, mix the oatmeal, chopped broccoli, egg, baking soda and creamy cheese sauce. Once the mixture is well mixed, pour into a greased 8×8 baking dish or 9 inch cake pan, and bake for 30-35 minutes until a toothpick comes out clean.
Let cool, and store in the fridge. Freeze it if it won't be eaten within 48 hours. When it's time for breakfast, simply reheat and serve!
We hope the recipes provide you with a faster and healthier change from the usual Ramadan recipes. If you need more ideas for breakfast, why not check out 3 more Ramadan pre-dawn meals? They take only 30 minutes.
Don't forget to check out our Ramadan deals! You just might find what you need for your recipes on promo! Or you can order online now to enjoy free delivery for a minimum spend of $59!