Many food guides for tourists mention nasi lemak, as it is one of the representative dishes for Singaporean cuisine. Some may mention mee siam and mee soto as breakfast favourites. But locals know there's nothing quite like a plate of nasi padang, where the intense flavours are.
However, eating nasi padang outside is sometimes really expensive; you often need to give a red $10 note for each person's share. Multiply that by 10 times for a family gathering, and you'll want to consider making your own Malay food at home instead.
A good Malay food spread looks a lot like a nasi padang stall, with many dishes to be shared filling a large table. While it's normal to see upwards of 20 dishes at a nasi padang stall, you may want to scale down for smaller private gatherings.
Here are 6 common Malay food recipes to get started with. To help all the cheapos out there stretch every cent, the recipes chosen use every spice listed at least twice!
Sambal Goreng / Squid

Rempah ingredients:
3 cm ginger
3 cm galangal
4 fresh red chillies
8 shallots
4 buah keras (candlenuts)
3 cloves garlic
1 stalk lemongrass, thinly sliced
2 tsp belacan
Tamarind Juice:
Option A: Ingredients for Sambal Goreng
200 g tempeh, cubed
300 g long beans, sliced diagonally
150 g firm tofu, cubed
60 g fresh prawns (approximately 6 medium, or 8 small, deveined and shelled if preferred)
60 g chicken gizzards
1-2 red chillies, sliced diagonally
2 shallots, thinly sliced
1 thumb-sized piece ginger, thinly sliced
1 stalk lemongrass, thinly sliced
60 mL tamarind juice
2 cups (500 mL) coconut milk
2 tsp roasted belacan
Salt and sugar to taste
Cooking oil
Option B: Ingredients for Sambal Sotong
500 g small or medium-sized fresh squid
4 tbsp peanut or vegetable oil
1 large onion, sliced
2 ripe tomatoes, quartered
240 mL tamarind juice
1-2 tsp palm sugar or dark brown sugar
Salt
Step 1: Make the rempah. Using a blender (or a pestle and mortar), blend all the rempah ingredients into a smooth paste. Heat some oil in pan, then fry the paste until fragrant, and the oil separates. This should take about 5 minutes.
Step 2: Make the tamarind juice. Mix tamarind paste and water together in a bowl. Let sit for 15 minutes, then strain and discard the seeds.
Option A) Sambal Goreng
Clean, then boil the chicken gizzard for 20 minutes until soft. Cut into cubes. Set aside.
Fry the tempeh until golden brown (Do not overcook!). Drain and set aside. Repeat separately for the tofu.
Stir-fry the long beans, chicken gizzard, and prawns for 2-3 minutes.
Heat up the rempah, then add in the sliced chilli, ginger, lemongrass, and shallots. Stir and add in the roasted belacan, tamarind juice, and coconut milk. Add salt and sugar to taste.
Simmer on low heat until the sauce thickens slightly (there should not be much gravy), then add all ingredients that were set aside.
Option B) Sambal Squid
Clean the squid. Lay it flat on the chopping board and get a firm hold on the head. Grab the tentacles and firmly twist and pull to separate the head from the main tube. Remove the innards from the cavity of the squid's main tube and wash it clean. Slice the squid into thin rings. Chop off the tentacles, then discard the innards and the head. Squeeze the top of the tentacles to dislodge the beak.
Heat up the rempah. Add onions, tomatoes, tamarind, sugar, and salt to taste. Cover and simmer on medium heat. Check and mash the tomatoes when well stewed.
Add the squid when the sauce thickens. Stir fry till the squid turns just opaque, but do not overcook to avoid a rubbery texture.
Remove from heat and wait 10 minutes before serving for the squid to absorb the flavours.
Ikan Bakar

Ingredients
Spice Paste
1 clove garlic
3 shallots
6 dried chillies
1 tbsp of turmeric powder
1/4 tsp of toasted belacan
2 in of lemon grass (white part only)
1 in of galangal
1/4 tsp sugar
1/8 tsp salt
1 tbsp of oil
1 tbsp of lemon juice
Tamarind Juice
Sambal Belacan
3 red chilies (deseeded)
2 bird's eye chilies (deseeded)
1 tsp of toasted belacan
2 shallots (thinly sliced)
1/8 tsp of sugar
Step 1: Blend the spice paste with a blender.
Step 2: Marinate the fish. Clean the fish and pat dry. Coat the fish with the spice paste and wrap it with banana leaves or baking sheets. Use toothpicks to tightly package the fish. Store in fridge overnight.
Step 3: Make the tamarind juice. Mix tamarind paste and water together in a bowl. Let sit for 15 minutes, then strain and discard the seeds.
Step 4: Make sambal belacan. Pound or blend the chilies and belacan into a paste. Add tamarind juice and sliced shallots to the sambal, then stir well.
Step 5: Cook the fish. Grill the fish parcel for 5 minutes on each side until the banana leaves are burnt, or the paper browns.
Step 6: Serve hot with sambal belacan.
Belacan Lady's fingers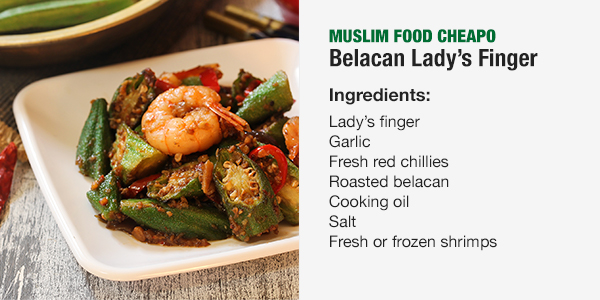 Ingredients
10 fresh lady's fingers/okras, sliced diagonally
3 cloves of garlic chopped
5-6 shrimp shelled and deveined
5 fresh red chilies
1 tsp of toasted belacan (Malaysian shrimp paste)
1 red chili sliced
Cooking oil
Salt to taste
Instructions:
Pound or blend red chilies into a paste. Heat the wok and stir-fry the garlic in oil. Add the blended chili paste, toasted belacan, and salt. Add the okra, stir-fry a few turns, then add in the shrimp. Continue stir-frying, till the shrimp is cooked, and the okra becomes sticky and cooked. Toss in the chili slices and serve hot.
Ayam Soto (serves 4)

1 tsp turmeric powder
300 g chicken (chicken with bones such as chicken breast)
2 pcs of cinnamon
8 cloves
2 cardamoms
2 star anise
1 lemongrass (Split top half into 2 pieces. Smash bottom part with a pestle.)
1 cm galangal (peel and smash with a pestle)
2 eggs, hard boiled
100 g bean sprouts (taugeh)
1 tbsp white pepper, powder
1 tbsp salt
1 L of water
Spring onions and fried shallots, for garnishing
4 tbsp of sunflower oil
Step 1: Using a blender, blend the garlic, ginger, onion, and turmeric powder.
Step 2: In a non-stick pan, heat the sunflower oil on medium. Fry cinnamon, star anise, cloves, and cardamoms for 3 minutes on medium heat.
Step 3: Reduce heat to low and add the blended paste from step 1. Add galangal and lemongrass. Stir-fry for 10 minutes on medium. Add more oil as needed and ensure the ingredients don't burn.
Step 4: Add chicken to the pot. Stir and cook for 3 minutes.
Step 5: Add 1 L of water. Stir well, add salt and white pepper to taste, and cover the lid. Let simmer for 40 minutes, checking and stirring occasionally.
Step 6: Shred the chicken meat when cooked. Return the chicken and the bones into the pot.
Step 7: To serve, blanch the bean sprouts in a separate pot for 30 seconds or less. Place in bowls and ladle the chicken soto soup into the bowls. Top with the shredded chicken and half a boiled egg, then garnish with spring onions and fried shallots. Eat with rice or lontong, or blanch some fresh yellow noodles to make mee soto!
Beef Rendang Recipe

Ingredients:
750 g boneless beef short ribs (cubed)
5 tbsp cooking oil
1 cinnamon stick, about 2 inch length
3 cloves
3 star anise
3 cardamom pods
1 lemongrass cut into 4-inch lengths and pounded
1 cup thick coconut milk coconut cream
1 cup water
2 tsp tamarind paste soaked in some warm water for the juice and discard the seeds
6 kaffir lime leaves very finely sliced
6 tbsp kerisik (toasted coconut)
1 tbsp sugar or palm sugar to taste
Salt to taste
Spice Paste:
5 shallots
1 inch galangal
3 lemongrass, white part only
5 cloves garlic
1 inch ginger
10-12 dried chilies soaked in warm water and seeded
Step 1: Blend or pound the spice paste ingredients into a fine and even paste.
Step 2: Heat the oil in a stew pot, then stir-fry the spice paste, cinnamon, cloves, star anise, and cardamom, until aromatic.
Step 3: Add the beef and the pounded lemongrass. Stir for a minute, then add the coconut milk, tamarind juice, water. Simmer on medium heat, stirring frequently until the meat is almost cooked.
Step 4: Add the kaffir lime leaves, kerisik (toasted coconut), sugar or palm sugar, stirring till well-blended.
Step 5: Reduce heat to low, cover the lid, and simmer for 60 to 90 minutes, until the meat is tender and the gravy has dried up. Add salt and sugar to taste. Serve with steamed rice, or store in the fridge overnight for stronger flavours.
Note: If kerisik is not readily available, just add grated coconut to a dry wok and stir continuously until they turn golden brown.
All that is left is to cook a pot of rice and invite your family and friends! For more malay food recipes, visit the tips section of our website. Don't forget to join GSSC for all the latest promotions!