Vietnamese food has gradually gained a passionate following here in Singapore due to the comforting and healthy nature of its cuisine. Despite its popularity however, it hasn't gained a strong foothold yet to be as affordable as local cuisine. So we have compiled a collection of cheap and easy Vietnamese recipes for you to whip up at the comfort of your own home—and get your fix anytime you want!
Chicken Pho

Pho is one of the most iconic Vietnamese foods. It is a deeply nutritious dish that is light on the calories (350-500 kcal), especially when served with chicken and average portion sizes. This is also a great comforting option for those days where you have a cold. Look for low-sodium chicken stock if you're cooking for someone with high blood pressure or heart conditions.
Ingredients:
2 boneless, skinless chicken thighs or breasts, thinly sliced
Salt and pepper
2 tbsp oil
12 oz. dried pho noodles
Broth:
1 yellow onion, sliced in half
2 inch piece fresh ginger unpeeled, sliced in half
1.5 L chicken stock
1 L water
2 star anise
3 whole cloves
1 short cinnamon stick
2 tbsp fish sauce
Optional: 1/2 tbsp coriander seeds and 1/2 tbsp fennel seeds
Optional: Vietnamese herb and vegetable platter (Refer to the last part of this post for details.)
Step 1: Make the chicken broth
In a soup pot, toast the coriander seeds, cloves, and fennels seeds for 1-2 minutes. Then boil with the onion, ginger, and remaining spices in 1 L of water for 20 minutes. Add the chicken stock and fish sauce, then simmer for 15 minutes. Skim off any scum that appears at the top. Remove from heat, remove all solids with a sieve, and season the broth with salt and sugar to taste.
Step 2: Cook the chicken
Season the chicken breasts with salt and pepper, then pan-sear it with a little oil. Remove from heat and slice.
Step 3: Blanch the pho noodles in boiling water and split into individual bowls.
Step 4: Assemble and serve
Place the chicken slices on top of the pho noodles and ladle the broth over it. Serve with a traditional Vietnamese herb and vegetable platter. If in a pinch, garnishing with a handful of blanched beansprouts, coriander, and calamansi lime wedges will do the trick.
Banh Mi

Banh Mi is a Vietnamese sandwich. As far as Vietnamese food goes, this dish is the easiest to replicate. However, there are a few features that make it uniquely Vietnamese. Here are five things to keep in mind:
The bread should be light and very slightly dry. Look for a soft baguette.
The meat filling needs to be richly flavoured, but not too wet or saucy.
There has to be Do Chua (carrot and radish pickles). Refer to the last segment of this post for a simple recipe of this Vietnamese kitchen staple.
A sprig or two of cilantro (or any herb from the herb platter) is necessary for the fresh flavour.
There are a few alternatives, but the classic dressing is Maggi seasoning and mayonnaise.
Other than these five basic rules, feel free to experiment with your Banh Mi. Here's a default recipe to get you started.
Ingredients:
Bread: Vietnamese bread rolls or French baguettes
Do Chua carrot and radish pickles
Cilantro (or other fresh herb)
Crunchy vegetable: Cucumber, iceberg lettuce, or romaine lettuce
Chicken:
Step 1: Make Do Chua pickles
Full instructions here. (to lead to Xa lach dia section)
Step 2: Make the chicken
Clean the chicken breasts, then cut to halve the thickness. Marinate the chicken with garlic, fish sauce, soy sauce, sugar, mayo, lime zest, and Sriracha sauce for 20 minutes or overnight. Then grill or pan-fry the chicken till thoroughly cooked. Allow chicken to cool for 5 minutes before slicing.
Step 3: Assemble the sandwich
Lightly toast the baguette, then spread the mayonnaise and sprinkle a few drops of Maggi seasoning. Top with the chicken slices, cilantro, pickles, and cucumber. Serve!
Goi Cuon (5 rolls)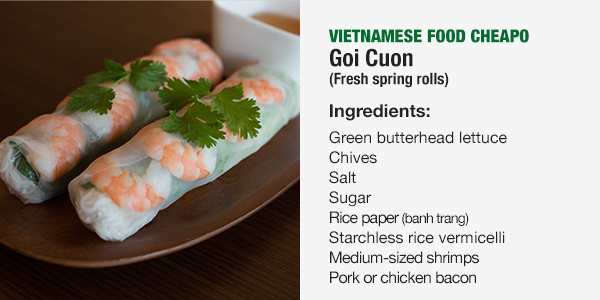 If you need some appetisers for guests and find salads too fiddly, try these fresh spring rolls.  Serve 1 roll as a starter, or up to 5 rolls for a meal. (Each roll is typically 100-130 kcal.) For those of you who are trying to lose weight, you can reduce the rice vermicelli and add some blanched beansprouts.
Ingredients:
5 medium shrimp (approx. 250 g; 1 shrimp for each roll)
200 g lean pork or bacon (5 small strips; substitute with chicken for halal option)
1 small green butterhead lettuce
1-2 sprigs of mint
A few strands of chives
1 pack rice paper (banh trang)
1/3 pack of starchless rice vermicelli (approx. 140 g)
Salt
Sugar
Optional: Beansprouts (approx. 60 g)
Step 1: Defrost if needed, then rinse and clean the shrimp. Devein, deshell, and remove the tails. Then split the shrimp into half.
Step 2: Cook the shrimps. Boil a small pot of water enough to cover the shrimps. Add about 0.5 tsp of salt, and turn down the heat. Boil for 1.5-2.5 minutes until the shrimps are no longer translucent.
Step 3: Cook the pork/chicken. Using the same pot of water, add 1 tsp sugar and 0.5 tsp salt. Immerse the meat and remove when thoroughly cooked. Cut into thin slices and set aside.
Step 4: Boil 1/3 packet of the rice vermicelli for 8 minutes, or as instructed on the packet. (If using beansprouts, halve the amount to 1/6 of the package.) Drain, cool with tap water, and set aside.
Step 5: Wash all vegetables and dry with a colander or a salad spinner.
Step 6 (Optional): Blanch the beansprouts in boiling water. Rinse with tap water to cool.
Step 7: Gather all the ingredients. Fill a large plate with clean, warm water. Set up a clean, moist surface to roll the spring rolls. (This can be a wet cutting board or plate.)
Step 8: Soak the rice paper sheet individually in a plate of warm water. It should take approximately 5-10 seconds for the paper to soften. Do not oversoak, or it will be hard to handle.
Step 9: Assemble the spring rolls. In the middle of the rice paper, place 2 shrimp halves (red side down). Stack 2-3 strands of chives, then 2-3 pork/chicken slices onto the shrimp. Just below the prawns and meat, form a neat rectangle with lettuce, then 2-3 mint leaves, a little rice vermicelli, and beansprouts (if using). There should be at least 3-4 cm space from the left, right, and bottom edges. Refer here if you need more guidance on how to arrange.
Step 10: Form the spring rolls. Snugly fold the side edges in. Then fold the bottom edge up, and start rolling, lightly squeezing as you go. Be gentler when you reach the meat to avoid tearing the roll.
Xoi La Dua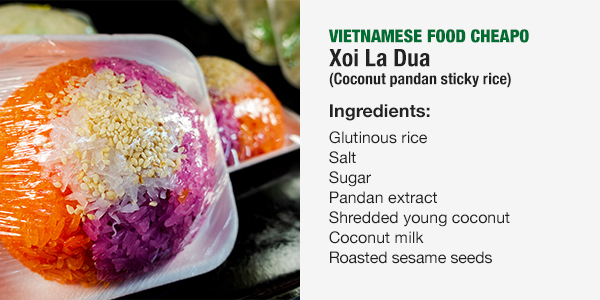 Sticky rice is common in Vietnamese cuisine; it can be eaten for breakfast or dessert. Depending on what the rice is combined with, the taste can be any combination of sweet, savoury, or nutty. The pandan and coconut version uses ingredients easily found in Singapore. With this simple recipe, you'll want to make this dessert often!
Ingredients:
2 cup glutinous rice
1 tsp salt
1/4 tsp pandan extract
1/3 cup shredded young coconut (set aside a handful for garnishing)
1 cup coconut milk
3 tbsp roasted sesame seeds
1-2 tbsp sugar
Step 1: Wash the glutinous rice and leave to soak in water for at least 3 hours, or overnight.
Step 2: Drain the rice and transfer to rice cooker. Add the salt, pandan extract, shredded coconut (set aside a handful of shredded coconut for garnishing), and coconut milk. Mix thoroughly.
Step 3: Cook the rice in the rice cooker. If rice is not cooked through at the first attempt, fluff the rice, cover with a baking sheet, and cook again.
Step 4: Crush the roasted sesame in a dry mortar and pestle. Mix in the sugar and salt.
Step 5: Fluff the cooked rice and scoop onto small plates. Just prior to serving, garnish with the leftover shredded coconut and the sesame sugar mix. (The sugar melts if left for too long.) Enjoy!
Goi Xoai (Green Mango Salad)

This mouth-watering and tangy green mango salad provides a vibrant whirlwind of flavours and textures. It is precisely what you need to start off a meal, especially if you have guests who are mindful about their caloric intake.
Ingredients:
1 green unripe mango (julienned)
50 g carrot (julienned)
30 g fresh Vietnamese mint (shredded)
1 chili (finely sliced)
2 tbsp dried shrimp (soak in warm water for 10 minutes)
1 tbsp cooking oil
1 tbsp fish sauce
1 tbsp sugar
2 cloves garlic minced
50 g roasted peanuts (for garnishing)
Step 1: Fry the garlic in oil till slightly golden. Drain the soaked shrimp and fry with the garlic. Add in the fish sauce and sugar, then stir-fry on low heat till the shrimp is caramelised. Set aside till cool.
Step 2: Assemble the salad. Using a pair of chopsticks, toss the carrot and green mango in a mixing bowl. Mix in the caramelised shrimp. Add in all remaining ingredients and top with the roasted peanuts to serve.
Bun Thit Nuong (Vietnamese grilled pork with rice vermicelli noodles)

This is Pho's less famous and more intensely flavoured cousin. As it doesn't have a hot soup, it is a great option for those days when the weather is simply too warm for pho.
Ingredients
Marinade
3 tbsp shallots, minced
1.5 tbsp garlic, minced
¼ cup sugar
1 tbsp fish sauce
½ tbsp thick soy sauce
½ tbsp pepper
3 tbsp cooking oil
Vegetables
Mint
Vietnamese perilla
Vietnamese balm
Cucumbers, sliced
Garnish
Pickled daikon and carrots – Do Chua
Spring onions in oil (Heat cooking oil till lightly smoking, then pour hot oil onto finely sliced spring onions.)
Crushed peanuts
Prepared fish sauce
6 tbsp water
2 tbsp sugar
1-2 tbsp of fresh lime juice
2 tbsp fish sauce
1 tbsp garlic, minced
Step 1: Thinly slice the uncooked pork.
Step 2: Mix the garlic, shallots, sugar, fish sauce, thick soy sauce, pepper, and oil. When the sugar dissolves.  Marinate the meat for 1 hour, or overnight for better results.
Step 3: Grill the pork at 190 C for 10-15 minutes, until a nice golden brown colour develops. Do flip the pieces midway.
Step 4: Make the prepared fish sauce. Mix all five ingredients, and adjust to taste.
Step 5: Blanch the noodles, then assemble your bowl. Blanched noodles, grilled pork, fresh vegetables, then garnishes right on top. Serve with a small bowl of the prepared fish sauce on the side.
Bonus: Xa lach dia

A communal platter of herbs and greens to share, known as Xa Lach Dia, is the best indication of authentic Vietnamese cuisine. While the combination and quantity may vary due to availability and personal preferences, these are the herbs that are typically included in the platter:
Asian or sweet basil leaves
Leaf lettuce (one or more kinds), separated into leaves
Small scallions, trimmed
Small lime wedges
Bird's eye chilies, whole or minced
Cucumber slices or chunks
Bean sprouts, raw or briefly parboiled and drained
(Do Chua) carrot and daikon pickles
Pickled bean sprout salad
Do Chua (commonly known as Vietnamese pickles) is a great thing to have in your fridge. It's an easy alternative to dill pickles and can be used to accompany all sorts of greasy dishes. Here's a simple recipe for it:
250-300 g carrots
250-300 g daikon radish
900 mL water, slightly warm enough to dissolve the salt and sugar
3 tbsp sugar
2 tbsp salt
120-180 mL distilled white vinegar or rice vinegar
Step 1: Julienne or cut carrots and daikon radish into thin, match-like strips.
Step 1.5 (Optional): If crunchier pickles are preferred, toss the cut vegetables with some salt and leave for 15-30 minutes to remove the excess liquids.
Step 2: Clean a glass jar and rinse it with boiling water to sterilise.
Step 3: Mix the water, sugar, salt, and vinegar in a bowl. Start with 120 mL vinegar and taste the mixture. Add more sugar, vinegar, or salt to taste. Do not use less, as a minimum proportion of vinegar is needed for food safety.
Step 4: Fill the jar with the vegetables and the pickling liquid. Make sure the liquid covers the vegetables entirely and leave it in the fridge for at least 3 days before consuming. The pickles will last 3 weeks.
Delighted by how affordable Vietnamese food can be at home? Do check out these easy-to-cook cheapo recipes! Don't forget to join GSSC too to receive all the latest deals and discounts.