Get your daily dose of high quality and premium products at Giant with our Top Picks. Exclusive to Giant, Top Picks are standout products from private label brands that are perfect for consumers who want to enjoy premium product experience. We're so confident these products will satisfy you that we're willing to give your money back if they won't!
Bonus: If you're a UOB Delight Cardmember, you get to enjoy 10% off products from these brands.
Why Are We So Confident About Top Picks?
Our Top Picks go through stringent and robust quality assurance process, so they can surpass your expectations and satisfy you!
Selecting the most responsible suppliers
Choosing manufacturers with good practice
Selecting the best products through customer surveys
Food safety test from accredited labs
Ensuring product quality through routine checks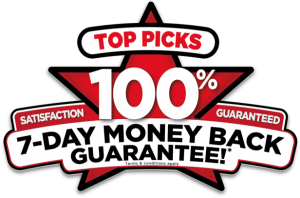 100% Satisfaction Guaranteed…Or You Get Your Money Back!
If these products aren't satisfactory enough for you, don't worry! You have our word: We'll give all your money back! No strings attached!
How do I get my money back?
Not satisfied with our Top Picks? Get your refund within seven days of purchase—just follow these quick steps:
Step 1
Produce original receipt any Giant stores.
Step 2
Return 3/4 of the unused product.
Step 3
Bring the product along with the original packaging.
Step 4
Get your money back within 7 days!