Soy sauce chicken is a staple chicken dish in Chinese cuisine that goes well with both rice and noodles. There's even a Michelin-starred restaurant in Singapore famous for its soya sauce chicken—but no one has the time to queue for that after a long day at work! All you want is to just tuck into a good, healthy home cooked meal with your loved ones.
Why not whip up your own version at home? It's an easy and delicious home-cooked food, and everyone in the family will surely love it.
Home-Cooked Soy Sauce Chicken
This three-step soy sauce chicken recipe only takes you slightly less than an hour, and most of it is just waiting for the chicken to cook! Instead of using a whole chicken, get chicken thighs that are already chopped. You can also buy minced ginger and garlic, all ready to be used.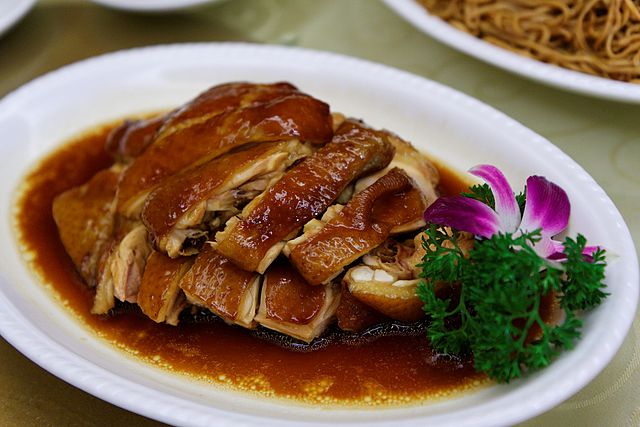 Photo courtesy of Dennis Wong
Home-cooked food doesn't have to be complicated. Home-cooked food ingredients—all available at Giant supermarket—will make prepping  dishes like soy sauce chicken much faster, and make kitchen work less stressful.
Soy Sauce Chicken Recipe
Serving size: 7-8 servings
Prep time: 10 minutes
Cooking time: 40 minutes
Ingredients:
Make prepping easier by buying ingredients for home-cooked meals at your nearest Giant supermarket.
Directions:
 Mix sugar, soy sauce, water, garlic, and ginger in a large stock pot and stir until sugar is dissolved. Place chicken in stock pot and bring to a boil. Using tongs, turn chicken in the pot every 5 minutes.

Boil chicken for about 35 minutes. The chicken should not be pink at the bone; an instant-read thermometer inserted near the bone should read 165 degrees F (74 degrees C). The sauce mixture would have turned into a rich, brown glaze.

Remove pot from heat and let cool 10 minutes. Serve soy sauce chicken garnished with chopped green onions.
Tip: To make this soy sauce chicken recipe even healthier, remove chicken skin before cooking to reduce fat.
Want more recipe inspiration for home-cooked food? See more easy recipes here and sign up for Giant Super Savers Club (GSSC) to keep updated on all our latest recipes and deals!