When trying to save money, cooking for the family helps. However, because the average household size in Singapore is 3 to 4, it can be a challenge to finish all the ingredients without sacrificing variety. This leads to wasted fresh produce, or people returning to takeaway meals.
With proper meal planning, you will shop for groceries more efficiently and avoid making extra trips to the supermarket. You will also be motivated to cook more often, as the menu will have enough variety. In fact, it is possible to cut your food expenses in half. So, if you're serious about saving money, you should plan your meals and cook more often.
Sweet & Sour Chicken (or Pork) is a Singaporean favourite, but you'll likely have half a pineapple and onions left over if you're cooking for just a small family. So, what else can we make with the raw ingredients? Here's a meal plan (for 3 to 4 persons) that will help you use up all the pineapple and onions, without being repetitive!
Main Ingredients:
1 to 2 whole pineapples (canned or fresh) | 1 bag of onions (red or yellow)
[Navigation Links: Sweet & Sour Chicken | Prawn Curry | Pineapple Fried Rice ]
Start of the week: Sweet & Sour Chicken (or Pork)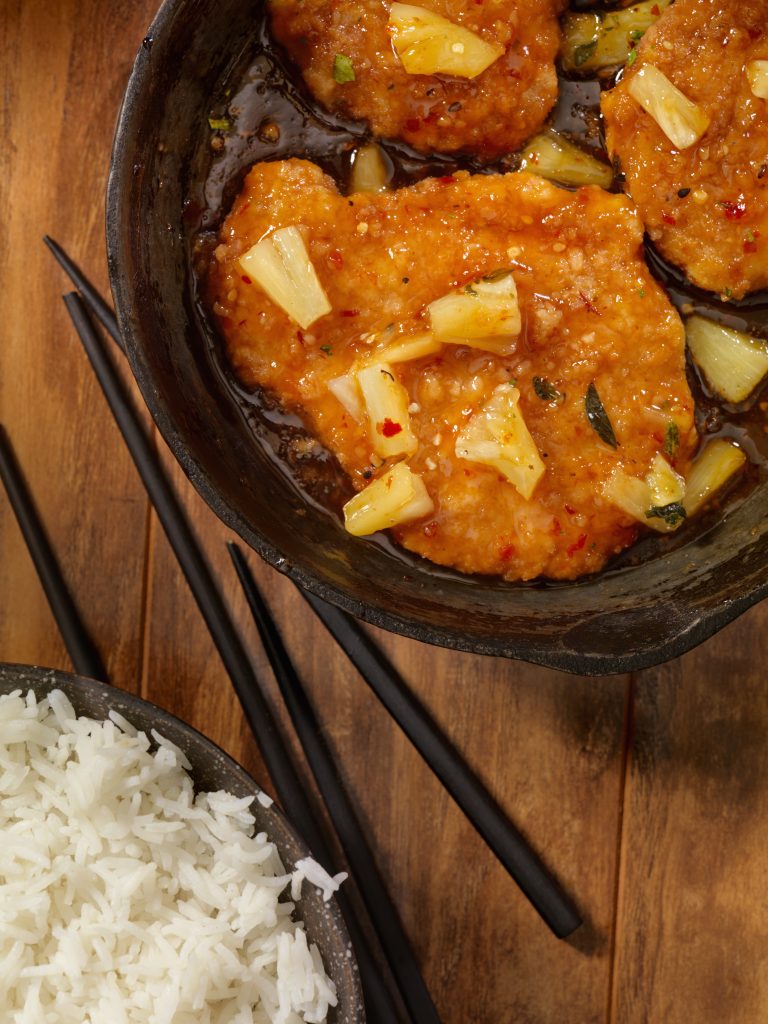 Other key ingredients: Chicken or pork, bell peppers, sweet sour sauce
Fried chicken or pork in a sweet and tangy sauce—an easy crowd-pleaser to get your week going! All you need is rice and a simple stir-fried vegetable to get dinner sorted.
Ingredients
Marinate the meat in salt, sugar, and egg yolk for 20 minutes. Dust with cornstarch. Deep fry, or fry the meat at 200 °C on the air fryer for 7 to 8 minutes. Flip once halfway.
Heat some oil, then sauté the garlic until light brown. Add the green bell pepper and pineapple bits. Stir-fry until fragrant. Add the pineapple juice (or sugar), then add sliced onions and the sweet & sour sauce. Add Lingham or Sriracha sauce, if preferred. Finally, add the fried meat, do a few quick stirs. Serve while hot.
Middle of the week: Prawn Curry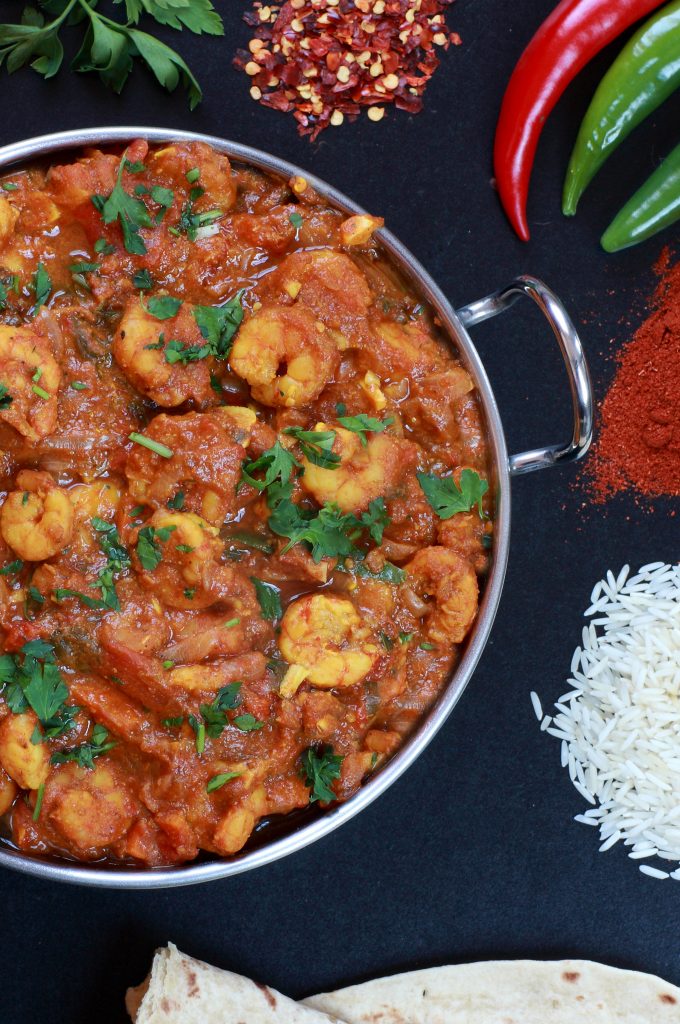 Other key ingredients: Prawns, tomatoes, okra, brinjal, curry mix, coconut milk
For this dish, the curry paste adds a touch of spice to wake up your palette, while the prawns make it fast to cook. If you have an oven, you can serve the prawn curry with baked potatoes to make things more interesting.
Ingredients
Heat 3 tbsp of cooking oil in a non-stick pot and sauté the curry paste until drier and fragrant. Add the onions, do a few stirs, add in the pineapple, then add the water. Simmer for 15 minutes until the sweetness from the pineapple is released. Add the coconut milk and vegetables, then simmer for 2 to 3 minutes. Finally, add the prawns and boil until cooked. Serve hot.
End of the week: Pineapple Fried Rice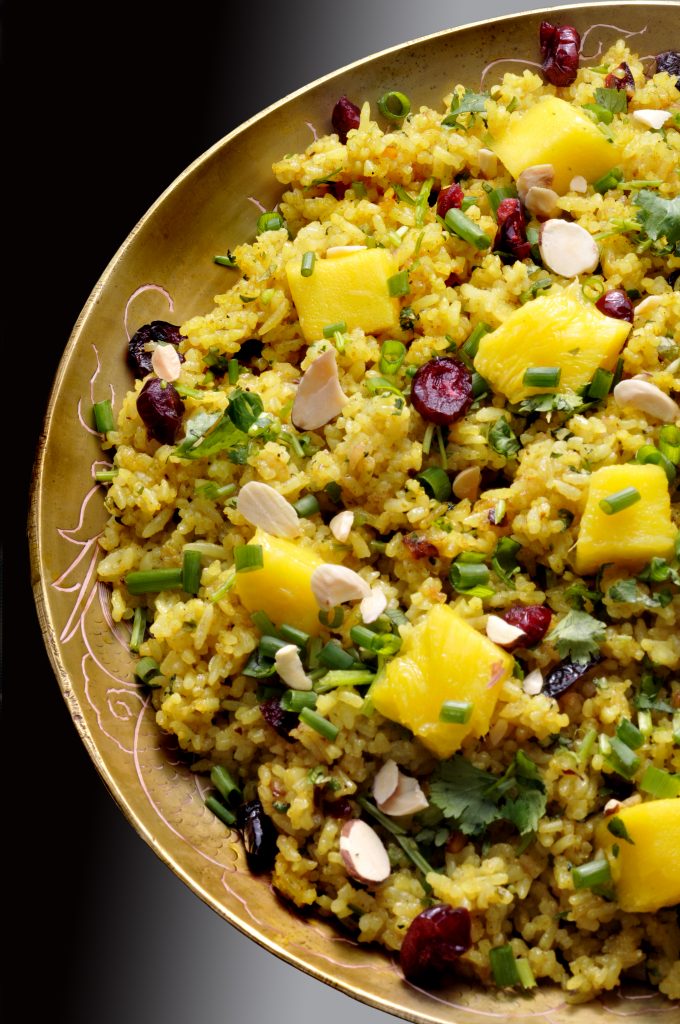 Other key ingredients: Rice, frozen vegetables, eggs, pork or chicken, prawns, garlic, pork or chicken floss
Optional: Bell pepper
If you still have fresh ingredients left over from the prawn curry or sweet & sour chicken or pork, this is where you can throw everything in! For any extra okra and brinjal, you can stir-fry with garlic and belachan chili to serve on the side.
Ingredients
Seasoning
On the night before, cook the rice and refrigerate. Just prior to cooking, clean and marinate the chicken, then peel and dice the prawns. Mix the seasoning in a bowl.
Heat oil and butter, then stir fry shallots and garlic until the shallots start to soften. Add shrimp paste and stir fry until aromatic. Add chicken, then add prawns when the chicken is opaque and cooked. After a few turns, add the seasoning, then the rice. Stir fry until the rice grains are dry and evenly coated in the sauce. Add pineapple, cashew nuts, and raisins, then stir fry for another minute or two. Serve hot with meat floss and coriander.
That's half your dinners for the week planned, and most of your ingredients eaten! Now you'll have space in your fridge for fresh ingredients next week. There are always fresh produce in our weekly promotions, so do check it out here!
Writer's note: This blog is part of our Easy Meal Planning series, which lists easy-to-make dishes that have many ingredients in common. Join GSSC and stay tuned to our Facebook page to minimize food wastage and stretch your dollar!