For all the homebodies and budget-conscious folks out there, here are some local favourites that you can stock up on. All the recipes on this page cost under $5 for 2 servings, and come with easy-to-use shopping lists. The ingredients are organised to match our supermarket layouts; just save the images on your phone and head over to your nearest Giant!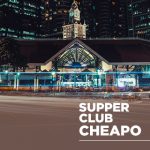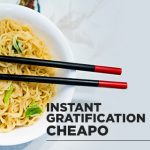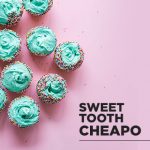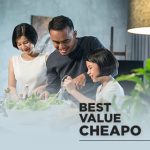 Not everyone has a prime supper makan spot near their home, which is why night owls in Singapore often order fast food delivery. It's not a healthy option, as a meal of burger and fries is at least 600 calories. For those who need to watch their weight, making supper at home would be a far better option, as they can control portion sizes and what goes into what they eat.
[ Navigation Links: Carrot Cake | Sardine & Cheese Prata | Satay Beehoon | Roti John | Salted Egg Tofu | Wonton Mee]
Carrot Cake (2 servings)

400 grams radish cake (chopped into smaller chunks)
2 tbsp cai por
3 lightly beaten eggs
3-5 cloves minced garlic
1 tsp light soy sauce
3 strands of spring onions (As preferred. Dice or use scissors to cut up finely.)
Add-ons:
For Version (A) – 2 tsp Fish sauce
For Version (B) – 1 tbsp thick sweet sauce
For Version (C) – 1 handful of beansprouts, 1/3 lup cheong, 1 tsp Fish sauce
Heat some oil on medium flame in a non-stick pan. Toss in the radish kueh and the garlic, then fry till lightly browned. Add in the cai por, stir-frying thoroughly until the scent is released.
It's time to choose the version you want!
Version (A) – Singaporean chunky white
Add the fish sauce and a bit of oil, turn up the heat to medium-high, then crack and loosely stir in the eggs. Wait for the egg to get a little crisp on the edges. Then break into roughly palm-sized blocks, and flip. Remove from heat and serve once the other side is slightly crisp.
Version (B) – Singaporean black
Crack and thoroughly stir in 3 eggs. Then stir in 1-2 tablespoons of sweet black sauce. Remove from heat once the entire pan is thoroughly mixed.
Version (C) – Malaysian
Add the lup cheong and the fish sauce. Stir in the eggs, then the beansprouts. Continue tossing thoroughly. Turn off the fire and serve once the beansprouts are softened to your liking.
Sprinkle on spring onions as desired and serve!
Sardine and Cheese Prata (1 Serving)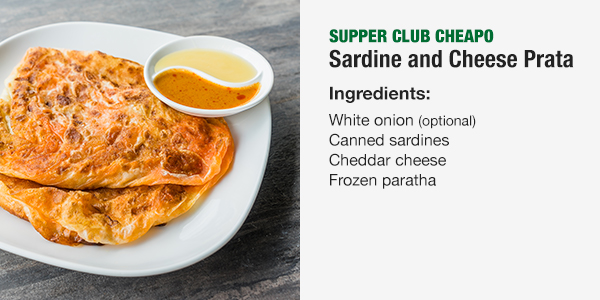 1 frozen paratha
50-75g canned sardines
1 slice cheddar cheese
Optional: 1/4 white onion, diced or thinly sliced

Heat up some oil on a non-stick pan, medium heat. Add in the frozen prata. (Without defrosting.) When the edges lift off the pan, quickly place the desired ingredients on one half of the prata. Fold the other half over to form a semicircle. Press down gently to help the shape form. Let cook for a couple minutes. Flip over once bottom half looks brown on the edges. Cook for more 2 minutes. Remove from heat and serve.

Satay bee hoon (1 serving)
80-100g satay sauce
60g Beehoon (Soak in water for 30 mins)
A couple stalks of Kang kong (More, if desired. Cut into 5cm segments.)
A handful of beansprouts
5 frozen prawns (Defrost and rinse)
5 pcs frozen squid (Defrost and rinse)
Step 1: Cook the bee hoon and the vegetables
Boil half a pot of water. Turn the heat to medium high, with constant bubbling. Toss in the bee hoon and boil for 2 minutes. Add the kangkong, boil for 1 min, then add in the beansprouts. Boil for further 1-2 minutes. Using a strainer ladle, remove the bee hoon and vegetables and place in bowls.
Step 2: Cook the seafood
Using the same boiling water, add in the prawns and squid. Once the prawns and squid take on color, remove from the pot and add to the bee hoon.
Step 3: Heat up the satay sauce
Place the bag of satay sauce in the pot of boiling water, and boil for 5 minutes. Turn off the fire, remove the satay sauce from the water. Pour the sauce into each bowl of bee hoon.
Stir in a bowl, serve and enjoy!
Roti John (1 serving)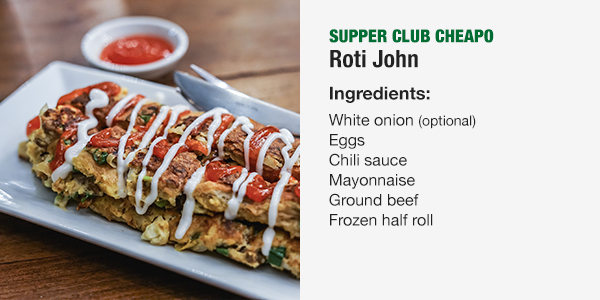 1 frozen half roll
1 Egg
60g ground beef
1/4 white onion
Dressing: Mayonnaise and Chili sauce
Preparation:
Defrost the ground beef. Defrost the frozen bread, then cut in half length-wise, without cutting all the way through. It should open up like a book. Dice the onions or cut up into thin slices. Crack and beat 3 eggs in a bowl.
Step 1: Toast the bread
Heat a little oil in a non-stick pan. Place the bread in the pan, white inner sides down. Press gently with your spatula and grill for 2 minutes. Remove the bread.
Step 2: Fry the beef and onions
Add a little oil to the pan. Fry the onion till slightly translucent, then add in the ground beef. Continue stir-frying, till the beef forms small brown chunks. Remove from the beef and onions from the pan.
Step 3: Assembling the roti john
Add a bit of oil. On medium heat, add in the eggs. Then quickly add the fried beef, and place the fried baguette on top, inner sides down. Wait for the eggs to form an omelette, and crisp up along the edges. Then flip and cook for a couple minutes for the crust of the bread to get crispy. Once sufficiently crispy, remove from the pan and place on a plate. Serve as is, or add mayonnaise and sweet chilli sauce on top.
Easy sauce decoration for those who want to share supper photos online: On each half of the roti john, make a tight line of fat dots, alternating between mayonnaise and sweet chilli sauce. Then run a toothpick through each line of sauce. You'll get lines of connected tear drops.
Salted Egg Tofu (2 servings)

1 tray firm tofu
10g Margarine
60ml Water
5 tsp Sugar
25g KNORR Golden Salted Egg Powder
5g KNORR Chicken Seasoning Powder
Paper towels
Curry leaves
50ml Evaporated milk
Cornstarch
Self-rising flour
Step 1: Prepare the tofu
Cut the tofu into small slices. (Roughly 2 fingers wide, 1 finger thick.) Line a flat tray with paper towels, then place the tofu slices flat on top. Place another layer of paper towels over the tofu, then put another tray or a heavy plate on top.
Step 2: Prepare the Salted Egg Sauce
Wash and pat dry the curry leaves. Melt the butter, then stir-fry the curry leaves till fragrant. Add chili powder if desired. Add in evaporated milk and water, then bring to a simmer. Sprinkle and stir in the sugar, salted egg powder, and chicken seasoning powder. Simmer for 2 mins, then set aside.
Depending on personal preferences, there can be enough sauce for 2 servings. Keep half the sauce in a microwaveable container, and consume within 2 days. Microwave for 1-2 mins to reheat. The sauce can be eaten with instant noodles or chicken drumlets too.
Step 3: Pan-fry the tofu
Add 2 tablespoons of corn starch and 1 cup of self-rising flour into a ziplock bag. Dab dry the tofu slices with kitchen towels, then toss gently in the bag of flour to coat the tofu slices. Pour vegetable oil into a pan, on medium-high heat. The oil should be lightly smoking. Pan-fry the tofu, flipping often, until golden brown on all sides. Takes about 5 minutes per side.
Step 4: Serve
Let the fried tofu sit on paper towels for 5 minutes, to remove the excess oil. Serve the tofu with the salted egg sauce! Dip and enjoy!
Wonton Mee (1 servings)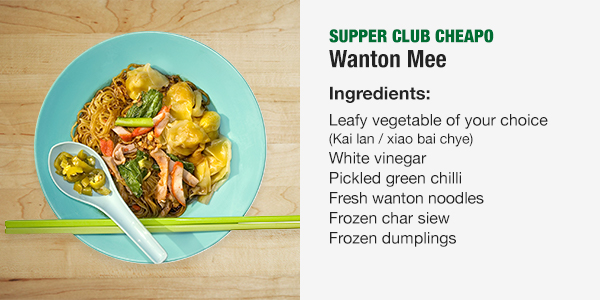 Leafy vegetable of your choice (Kai lan or xiao bai chye works fine)
1 tbsp white vinegar
1 clump fresh wanton noodles
Preparation
Take out the desired number of dumplings. A package of 12 pieces is good for 2-3 servings. Defrost the char siew. To defrost quickly, flip a metal pot upside down. Place the package of char siew on top of the pot. Fill another metal pot with water and place on top of the char siew. Prepare the char siew using the oven, as per the instructions on the pack.
For dry version
Mix the sauce ingredients in a serving bowl, and place it within reach. Boil a pot of water, and add a little bit of white vinegar. Add in the noodles and cook for 2-3 minutes, as preferred. Stir the noodles apart to prevent sticking. Remove noodles from the pot using a strainer. Add to the bowl. Stir the noodles to coat with sauce.
Throw the dumplings into the pot of boiling water and cook for 2 minutes. Add in the vegetables and cook for 2-3 minutes. Using a strainer, remove vegetables and dumplings from the pot, and add to the bowl.
Serve with the pickled green chili and char siew. Enjoy!
For soup version
Boil a pot of water, and add a little bit of white vinegar. Cook the noodles and vegetables for 2-3 minutes, as preferred. Stir to prevent noodles from sticking. Remove the noodles and vegetables from the pot, then blanch in cold water. Set aside in serving bowls.
Boil a new pot of water, and follow the instructions of the packaging to cook the wonton dumplings. To serve, ladle out the soup and dumplings onto the noodles in the serving bowls.

For those of you who own a microwave oven and don't like waiting for favourite singapore food, this segment is just for you! The recipes used here are exclusively canned, frozen, and common staple foods, so you can makan them anytime.
[ Navigation: Prawns in Chili Crab Sauce | Otak Sandwich | Dim Sum | Laksa Mac'n'Cheese ]
Prawns in Chili Crab Sauce + Mantou (1 serving)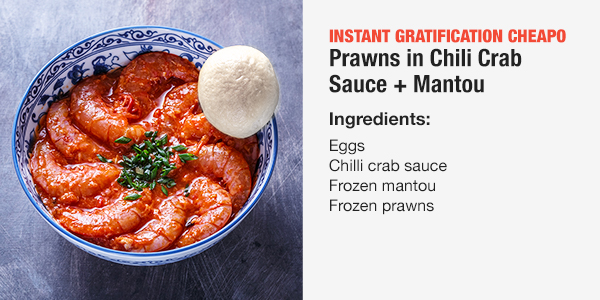 Boil 150ml water in a small pot. Add a handful of frozen prawns. No need to defrost. Boil for 3-5 minutes, till prawns start to turn opaque. Add in half a packet of sauce. Beat 1 egg, and stir into the pot. Cook for 5 more minutes and remove from heat. Microwave 3-5 mantous for 60-70 seconds. Dip with the chili prawns and enjoy!
Otak and cucumber sandwich (1 serving)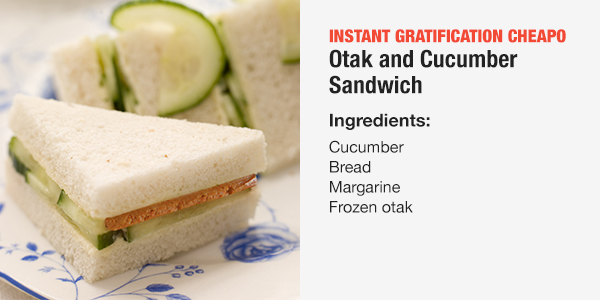 Microwave 3 Otah for 4 minutes. Cut 4 slices of cucumber and dab dry. Spread some margarine on your bread. Unwrap the otah, and assemble the sandwich. Enjoy!
Dim Sum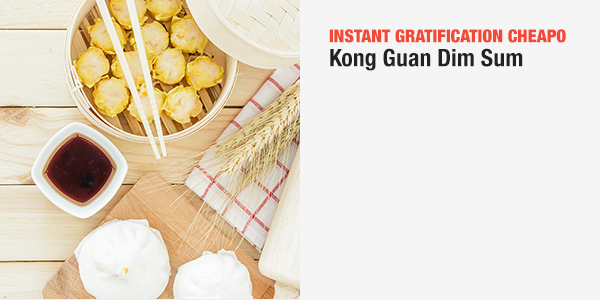 We found something quite amazing in the frozen department: All the paus and siew mais from Kong Guan are ready to eat after microwaving on high for 60-70 seconds. And there's no need to defrost! /kong-guan
If you don't want to use cling wrap to retain the moisture in the dim sum, here's an alternative. Wet the plate before you place the dim sum (thin film of water, not puddle), and place a microwave-safe bowl of water in the microwave too.
Laksa Mac'n'cheese (1 serving)
1/2 cup dried macaroni/product/macaroni-elbow-200g-3052219 or shell pasta
1/2 cup water
1/4 tsp salt
1/4 cup milk
2 tbsp laksa paste
1/4 cup strong shredded cheese, such as cheddar, Monterey Jack, provolone
1/4 cup mozzarella
Step 1: Mix the pasta, water, and salt in a deep microwave-safe bowl. Lightly place a microwave-safe lid on top to prevent splashing and leave some space for air to escape. Microwave for 2 minutes, then stir. Repeat till cooked.
Step 2: Add the milk and laksa paste. Stir. Add the strong cheese and microwave 30s.
Step 3: Stir in the mozzarella and microwave for 30-60 seconds.
Sweet Tooth Cheapo:

Singapore food isn't quite complete without dessert, even if it's just a mildly sweet and low calorie glass of chin chow with soy milk. You may never makan dessert outside again, when you discover how easy and affordable it is to make these sweet treats at home!
[ Navigation Links: Michael Jackson | Chendol | Ice cream sandwich | Muah Chee ]
Michael Jackson – Soy Milk + Chin Chow (1 serving)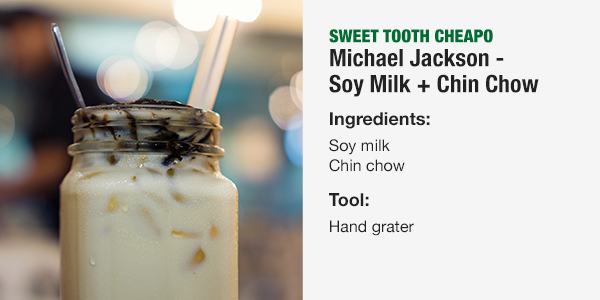 Shred the unsweetened chinchow into strings (using a hand grater), or cut into small cubes. Spoon into glasses, and pour in the soya milk. Enjoy!
Chendol (1 serving)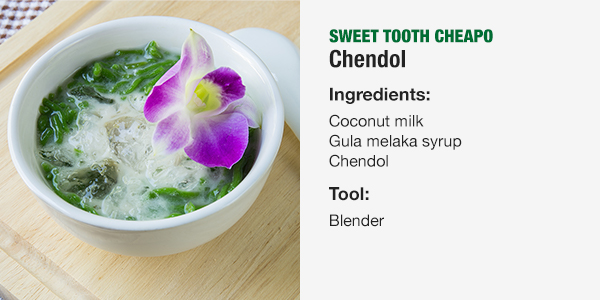 Scoop the green chendol strings into bowls or tall glasses. Make shaved ice using the blender and scoop into the bowls or glasses. Pour enough coconut milk to fill the bowl, or reach 3/4 of the glass. Top off with a drizzle of the gula melaka syrup.
Ice cream Sandwich (1 serving)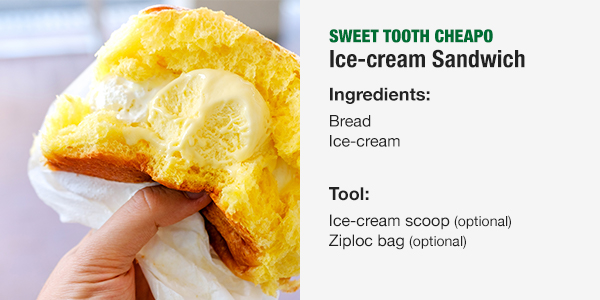 1 tub ice cream
Optional: Ice cream scoop | Ziploc bag
Scoop out the ice cream onto the bread, fold, and enjoy! Store the ice cream tub in a ziploc bag to prevent freezer burn.
Muah Chee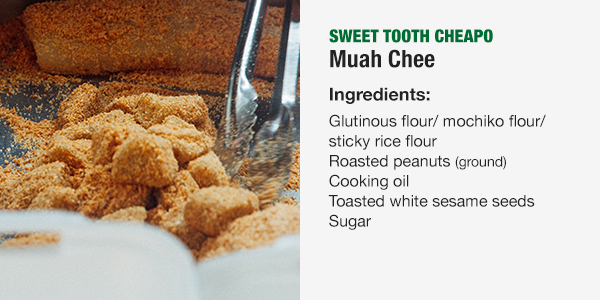 Mix the glutinous rice flour, oil, and water to make a dough. Transfer to heat-proof glass bowl/tray and steam for 20 minutes. While waiting, roast your white sesame. On medium heat, stir the sesame in a pan for 3 minutes till lightly browned. Turn heat down to low, then add the roasted peanuts and stir for a further minute. Remove peanut mix from heat and set aside in a bowl. Oil the scissors, and cut the steamed dough into small chunks. Toss the steamed dough in the bowl of peanut mix. Sprinkle on the sugar right before serving.

This segment consists of easy Singapore food recipes for meal preppers and small families. While the food is designed to be stored for a week or more, do not cook more than double of the recipes each time. Unless you happen to have a larger family and are confident of finishing the food on time.
[Navigation Links: Achar | Sweet and Sour Chicken/Pork | Ketupat Sayur ]
Achar (10+ servings)

300 g Cucumber
150 g Cabbage
50 g Carrot
4 slices of pineapple (Canned is fine)
50 g Roasted Peanuts
2 tablespoon White Sesame Seeds
1 tablespoon Salt
1 tablespoon Sugar or to taste
3 tablespoons Cooking Oil
50 ml Rice vinegar
Rempah
5 Shallots
6 fresh Red Chilies
1 teaspoon turmeric powder
2 Candlenuts
30 ml Water
Step 1: Cut all the vegetables.
Cut cucumbers into finger-sized strips. Cut cabbages into 3cm squares. Peel and cut carrots into thin batons. Slice pineapples into small chunks. Toss all the vegetables with 1 tbsp salt, and leave in colander for 30 mins.
Note: if you are using canned pineapples, and want to cook Sweet & Sour Pork/Chicken soon, save a 3-5 slices of the pineapple and the juice from the can. You can also add a bit of the juice into marinade at Step 4 of this recipe.
Step 2: Make the rempah. Blend the ingredients in a food processor, or with a mortar.
Step 3: Lightly roast the sesame seeds and ground peanuts in the wok. Set aside.
Step 4: On medium heat, stir-fry the spice paste till fragrant. Add vinegar and water, bring to boil. Add the salt, then add the sugar to taste.
Step 5: Remove wok from heat. Add all vegetables, peanuts, sesame seeds into the wok and stir well.
Step 6: Let it cool, then store in a clean jar or container. Keep chilled in the fridge.
It'll take at least a night for the Achar flavour to develop. Once done, this can be served as a side for your normal meals. If clean spoons are used to serve out the achar, and the vegetables stay immersed in the pickling fluid, it can last for 3-4 weeks.
Bonus idea: You can make an achar, melted cheese, and fried egg sandwich.
Sweet and sour pork/chicken (4 servings; double up for more.)

300 g pork/chicken (sliced thinly)
1 tsp salt
2 tsp sugar
2 egg yolk, beaten
4-6 tbsp cornstarch
1/2 can pineapple chunks (drained)
4 tbsp pineapple juice from the can
1/2 red bell peppers
1/2 green bell peppers
1 medium onion
Lee Kum Kee Sauce for Sweet and Sour Pork/Spare Ribs
Optional: 1 tbsp Lingham chili sauce or 1/2 tbsp Sriracha sauce
Marinate the meat in salt, sugar and egg yolk for 20 minutes. Dust with corn starch. Deep fry, or fry the meat at 200 C on the air fryer for 7-8 minutes. Flip once halfway.
Heat some oil then sauté the garlic until light brown and add the green bell peppers. Add the pineapple bits. Stir-fry until you smell the aroma. Add 4 tbsp of pineapple juice, then add sliced onions and the Lee Kum Kee sauce. Add Lingham or Sriracha sauce, if preferred. Finally, add the fried meat, do a few quick stirs. Serve while hot, or let cool in individual containers before storing in the fridge.
Ketupat Sayur (5-6 Servings)

A quick explanation:
Because this is a meal prep recipe, the sayur lodeh will be in the form of a thick paste with vegetables, to help it last the week and take up less fridge space. The egg, serunding, and most of the liquids will be added only prior to serving.
Vegetables:
2 pieces Beancurd (panfried till golden brown)
1 small round cabbage (cut into bite sizes)
1 large carrot (cut lengthwise)
1 small turnip (cut lengthwise)
Few long beans (cut lengthwise)
2 daun salam (Indonesian bay leaves)*
Other ingredients:
2 ½ tbsp cooking oil
1 tbsp ground coriander
½ tbsp fish curry powder
Ikan bilis powder, to taste
500ml coconut milk
2 tbsp sambal chilli oil
3 pieces tau kwa, halved into triangles and deep-fried
6 hard-boiled eggs, halved
Frozen Ketupat (We recommend NONA's brand as it has mini individual ketupats for easy portion control.)
Optional:
60g serunding (fried grated coconut; if unavailable at your market, fry fresh shredded coconuts with a little sugar.)
Sambal chilli to taste, for topping
Sugar and salt, to taste
DIRECTIONS
Part 1: Meal prep
Boil 4 eggs in salted water; once the water bubbles, remove the heat and let sit for 9-10 minutes. Pour out the hot water, and cool the eggs with tap water. Dry, then store the eggs in fridge with the shell on.
Heat cooking oil in a deep pot and fry the lontong paste over medium heat for about 5 minutes, or until fragrant.
Add in the vegetables and pan-fried tofu, and cook on medium heat for another 8-10 minutes. Stir in ground coriander, ikan bilis powder and fish curry powder.
Add 250ml of coconut milk, and cook on medium-low heat for another 5 minutes.
Remove from heat, let cool, then portion into 4 airtight, microwave-safe containers. (We recommend using containers that can hold 500-750ml. It'll help with your meal assembly later.) This condensed form of sayur lodeh will easily last a week.
Part 2: Packing
The night before, cook the ketupat, following the package instructions. 3 pieces will be roughly equal to 1 bowl of rice, so tweak as needed. Store in a small container in the fridge, along with 1 deshelled hardboiled egg, a tablespoon of serunding, and sambal chili.
Part 3: Assembling at the office
When it's time to makan, dissolve ¼ of a chicken stock cube in 100ml of boiling water. Add a pinch of sugar and salt if desired. Pour the chicken broth into the sayur lodeh container. Stir and microwave for 1.5 minutes. Stir again and microwave for 1.5-2 more minutes. Stop once you see bubbling. (Note: To avoid splashing the microwave, lightly place microwave safe lids on top of the container. Just do not seal, ensuring enough space for steam to escape.)
Warning: DO NOT reheat the hardboiled egg in a microwave. Just put the egg and the ketupat in the hot sayur lodeh, and wait a couple of minutes before tucking in.
With some planning, it is possible to have a variety of your favourite Singapore food in your kitchen, anytime. Visit our 24 hour outlets to get your local food ingredients, or hop over to giant.sg