Experienced Singaporean makciks know there are specific cuts of beef to make a perfect beef rendang. They are actually strip loin steaks (also known as New York strip), or top sirloin. These are common flavourful cuts that won't break the bank – just perfect for grilling, roasting or pan-searing at home!
If you need a break from your beef rendang, pepper beef slices, and beef curry this festive season, here are 3 delicious beef recipes to change things up! These halal recipes are designed for 4 generous servings. Follow accordingly for a small family meal or scale it up for a bigger gathering!
Navigation: Striploin Steak Salad | Chimichurri Strip Steak | Classic Sunday Roast
As part of our Hari Raya specials, we're having an exclusive 1-week promotion for beef!
500g for $7.90 only! This amazing WOW Deal lasts from 24 to 30 May 2019, so don't miss out!
Striploin Steak Salad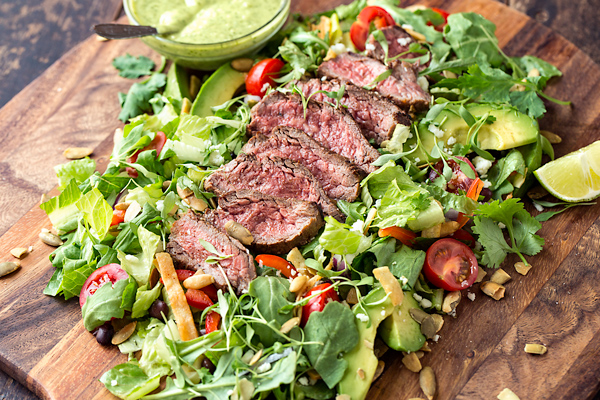 For those of you who are on a keto diet or need to cut down on carbohydrates due to prediabetes, this salad is a very satisfying option! Balance out the juicy, flavourful meat with the refreshing crunch of vegetables to make it the perfect healthy option for a hot day!
Ingredients
Salad ingredients
Remove steak from fridge. Defrost for 30-60 mins, until it reaches room temperature.
Generously salt and pepper the steak on both sides. Warm pan on medium heat, then add a splash of cooking oil. Place steak in pan, and sear each side for 2-4 mins. Right after turning the steak, add butter, crushed garlic and thyme strings. Coat the steak with the melted butter. Remove steak from pan and let it rest for 5-10 minutes.
Prepare the salad. Wash, chop and slice all the vegetables. Toss it with olive oil and balsamic reduction and serve the salad in individual bowls.
Cut the steak against the grain into thick strips and place on top of the salad. Enjoy!
Chimichurri Strip Steak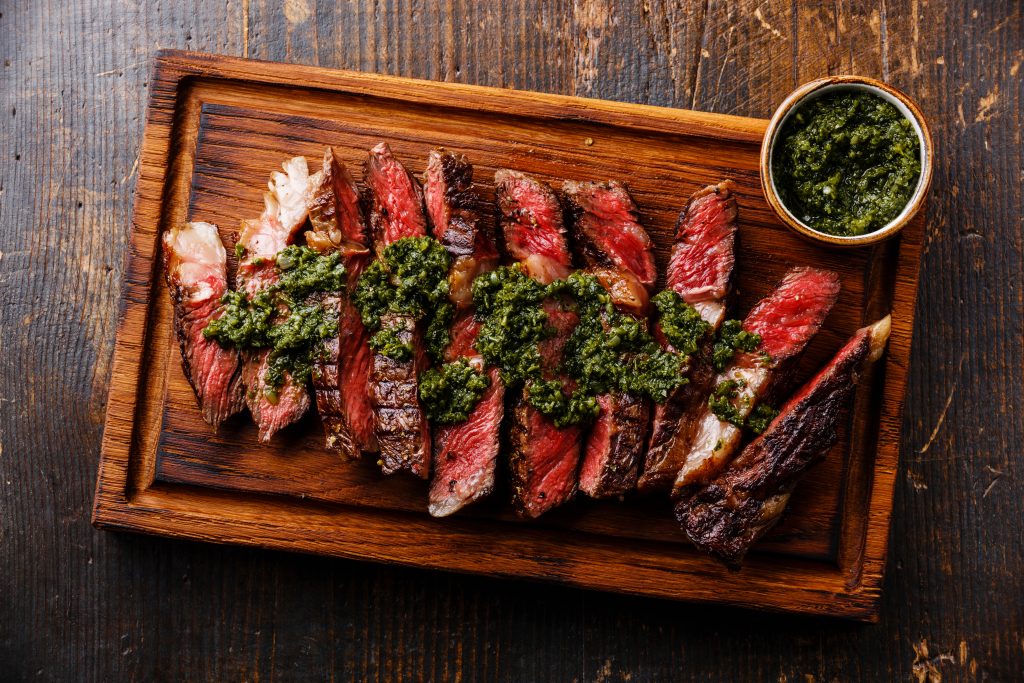 Chimichurri is a green uncooked sauce from Argentina, used for grilled meat. Not commonly seen in Singapore, this will definitely be a refreshing experience for your tastebuds!
Ingredients
Grilled Potatoes and Grilled Plum Tomatoes, optional
Potatoes
Plum Tomatoes
Put your oven on grill mode, and heat on medium-high. Place a grilling rack onto a rimmed baking tray.
If you're making grilled potatoes, lay the cut potatoes on an aluminium sheet. Toss the potatoes with olive oil, salt and pepper. Fold foil over to form a packet and seal the edges. Grill for 25-30 minutes, turning once halfway.
Make the herb sauce. Pulse the parsley, cilantro and garlic in a food processor until finely chopped. Add oil, vinegar, oregano, red pepper and 1/8 teaspoon kosher salt and black pepper; pulse till well blended.
Dry the steaks by patting with kitchen towels. Season with 1/2 teaspoon kosher salt and pepper. Place steaks on the rack in the grill and flip occasionally, until desired doneness. It takes 7 to 8 minutes for medium-rare, 10 minutes for well-done. Remove from the oven and let stand for 5 minutes.
If you're making plum tomatoes, cut plum tomatoes into halves. Brush cut sides lightly with olive oil and sprinkle with salt and pepper. Grill until lightly charred, 3 to 5 minutes per side.
Spoon out the meat juices from the baking tray and mix with herb sauce. Slice steak; then drizzle sauce on top and serve with grilled potatoes and tomatoes if desired.
Classic Sunday Roast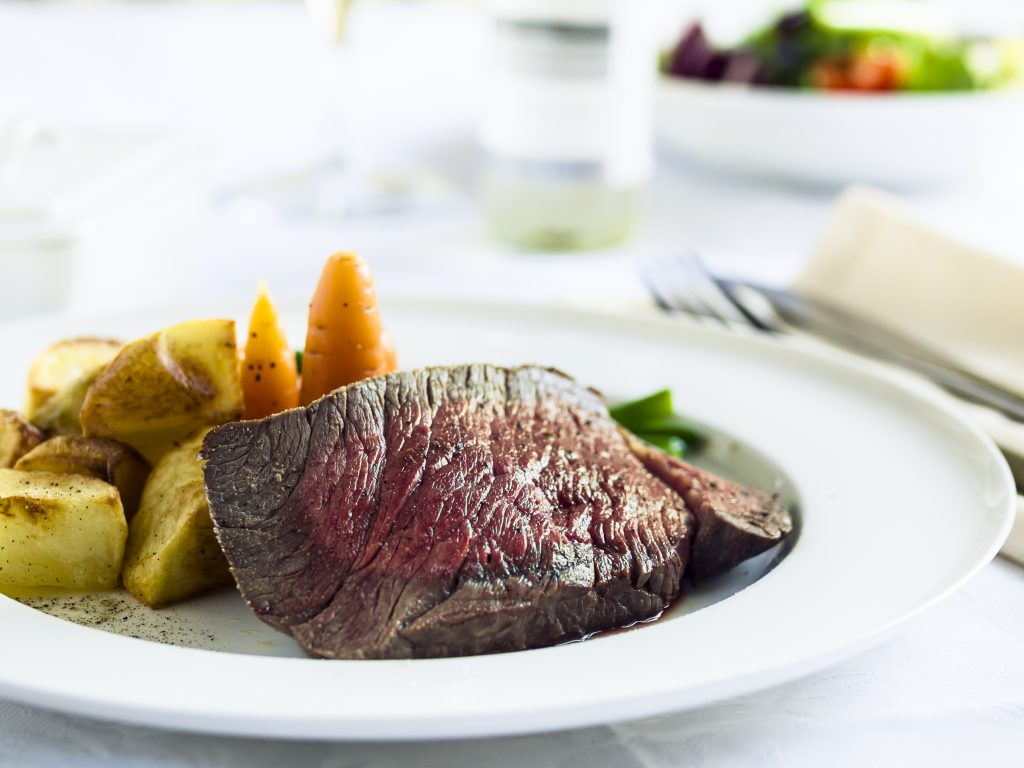 As the name of this dish suggests, this is an excellent choice for a Sunday brunch! As this recipe involves slow cooking in the oven, you can easily scale up for guests without significantly increasing your cooking time. So, make a date with your family and friends, and start roasting!
Roasted Beef Ingredients:
Gravy Ingredients:
Roasted Vegetables:
Boiled Vegetables (Optional – use as much as you like):
Pre-heat the oven at 175 deg C. Place a large sheet of aluminium foil in your baking tray, then brush a bit of butter or vegetable oil onto the middle of the foil. Take the beef out of the fridge, rinse with water, and pat dry. Season the beef with a bit of salt and pepper, then melt 1 tbsp of butter in a large non-stick pan. Brown the outside of the beef, then transfer onto the baking tray.
Sprinkle the sage and the mint onto the beef, then lift up the sides of the aluminium foil to form a rough bowl and trap the beef juices. Pour 60ml of water over the beef and cover with a second sheet of aluminium foil. Bake at 175 deg C for 45-60 minutes.
Note: Add 5 minutes for every additional 100g of beef. For example, 2kg of beef will need 85-100 minutes of roasting.
Prepare the roasted vegetables. Cut them up, then toss in a bowl with the vinegar and some olive oil. Lay them out on another baking tray, then place it in the oven 30 minutes before the beef is cooked.
While waiting, make the gravy and boil the other vegetables. Boil the vegetables until they're thoroughly cooked, remove all excess water with a strainer, then set aside. For the gravy, stir-fry the mushrooms and garlic, then add the water and stir-in the gravy mix.
When the beef is done, test with a chopstick or satay stick. Remove the beef and set aside for the flavour to deepen. Increase the temperature of the oven to 240 deg C, and roast the vegetables for a further 5-10 minutes, till nicely browned.
Once the roast veggies are ready, just slice up the beef and lay everything out on the table. Time for everyone to dig in!
Got leftovers from the roast? Just chop up 1-2 onions, 1 bell pepper and all the leftovers. Then, stir-fry everything, and season however you like. (A bit of Maggi seasoning and pepper works amazingly well here.) Tadah! Sunday dinner or Monday's lunchbox sorted!
Due to the nature of the food, everyone is bound to feel really full after the meal. What's the most Singaporean thing you can do to aid digestion? Take a walk in the malls and supermarkets of course! Check out our weekly promos before you go!
Too busy spring cleaning for Hari Raya to go for a walk? Why not shop for Hari Raya at Giant online? Many promotions await, and delivery is free with a minimum spend of $59!